Shoraku-ji Temple | Surrounded by verdant peaks, the original scenery of Omi and even Japan can be found here.
勝楽寺 | 青々とした峰に囲まれた里山。近江の、日本の原風景がそこにある。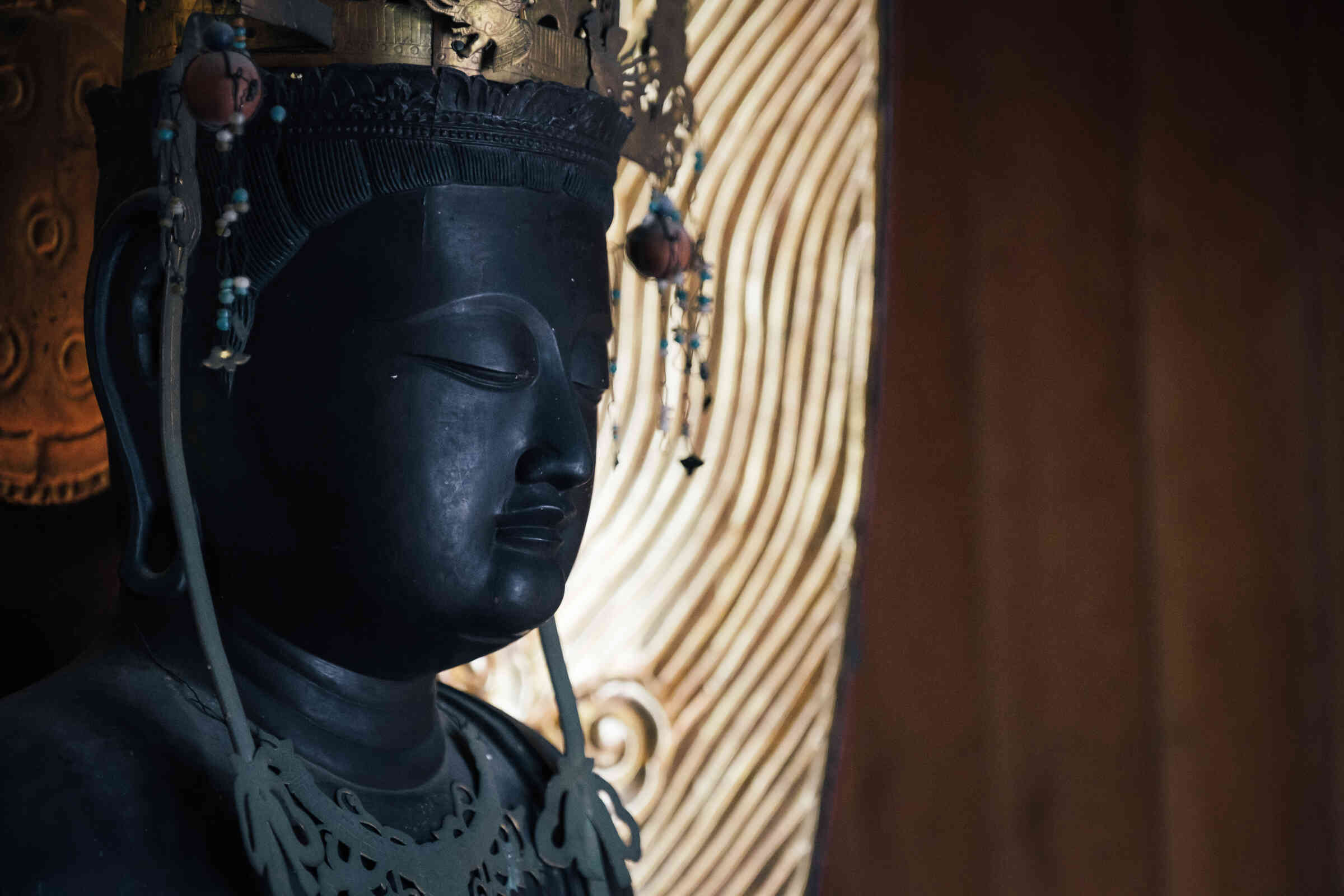 Koura Town, Inukami District, Shiga Prefecture. A mountain temple with a nostalgic atmosphere. This might be Omi's, no, Japan's original landscape.
Shoraku-ji Temple is one of the Kennin-ji school of the Rinzai sect, built by Doyo Sasaki, a military commander who was active during the turmoil of the Northern and Southern Courts. It is said that the founder of the mountain is Unkai of Tofuku-ji Temple.
滋賀県犬上郡甲良町。郷愁を誘う風情に包まれた山寺。これは近江の、いや日本の原風景ではなかろうか。
勝楽寺は、南北朝動乱期に活躍した武将、佐々木道誉(どうよ)が建立した臨済宗建仁寺派の寺院。開山は東福寺の雲海和尚とされる。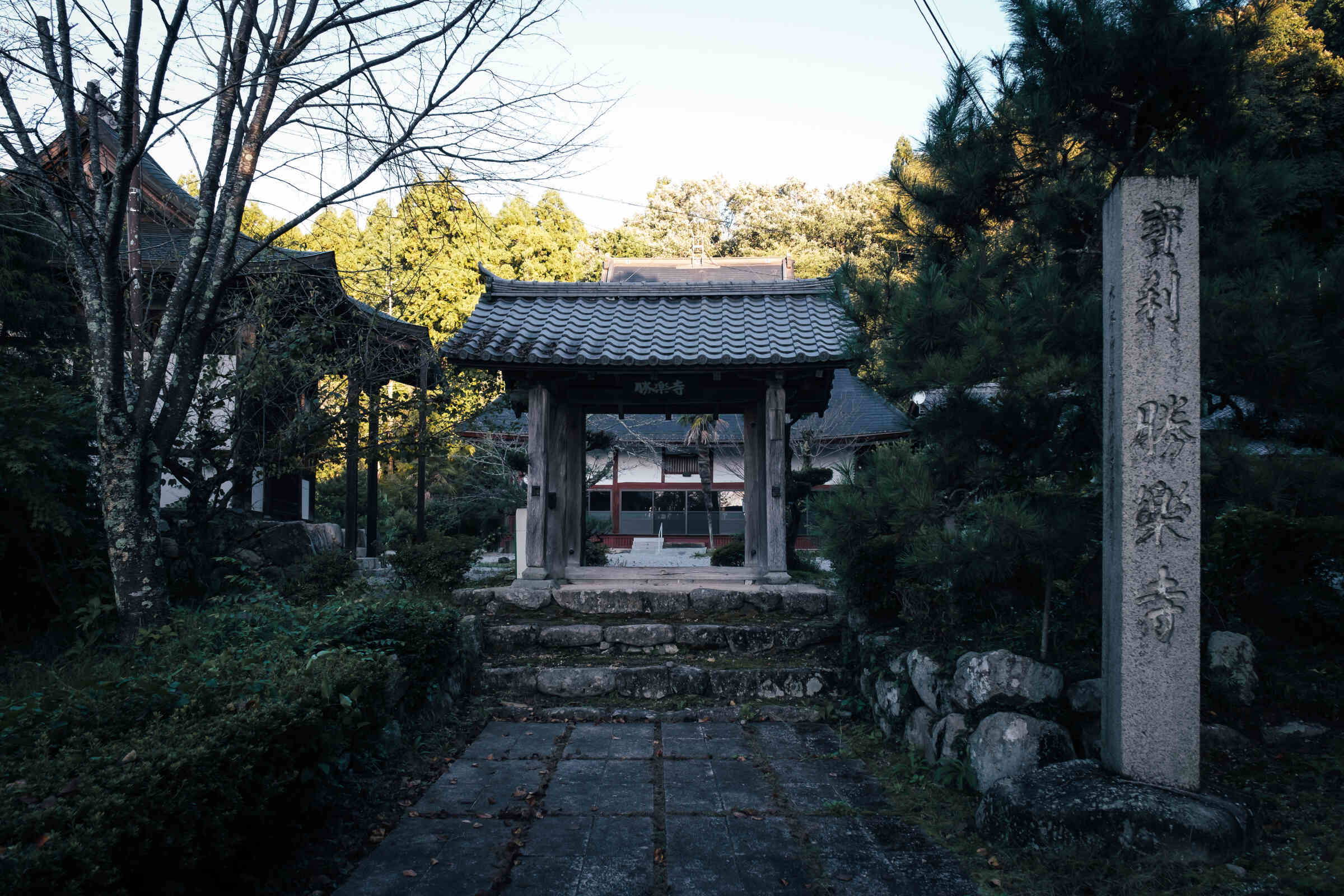 The appearance of the temple at the time of its foundation can not be seen, but the gable-style six-legged gate, which escaped fire, conveys the atmosphere of that time. It retains the architectural style of the Muromachi period and is designated as a cultural property of the town.
創建時の寺観は見られないが、兵火を免れた切妻造の六脚門が当時の風情を伝える。室町時代の建築様式をよく残し、町の文化財に指定されている。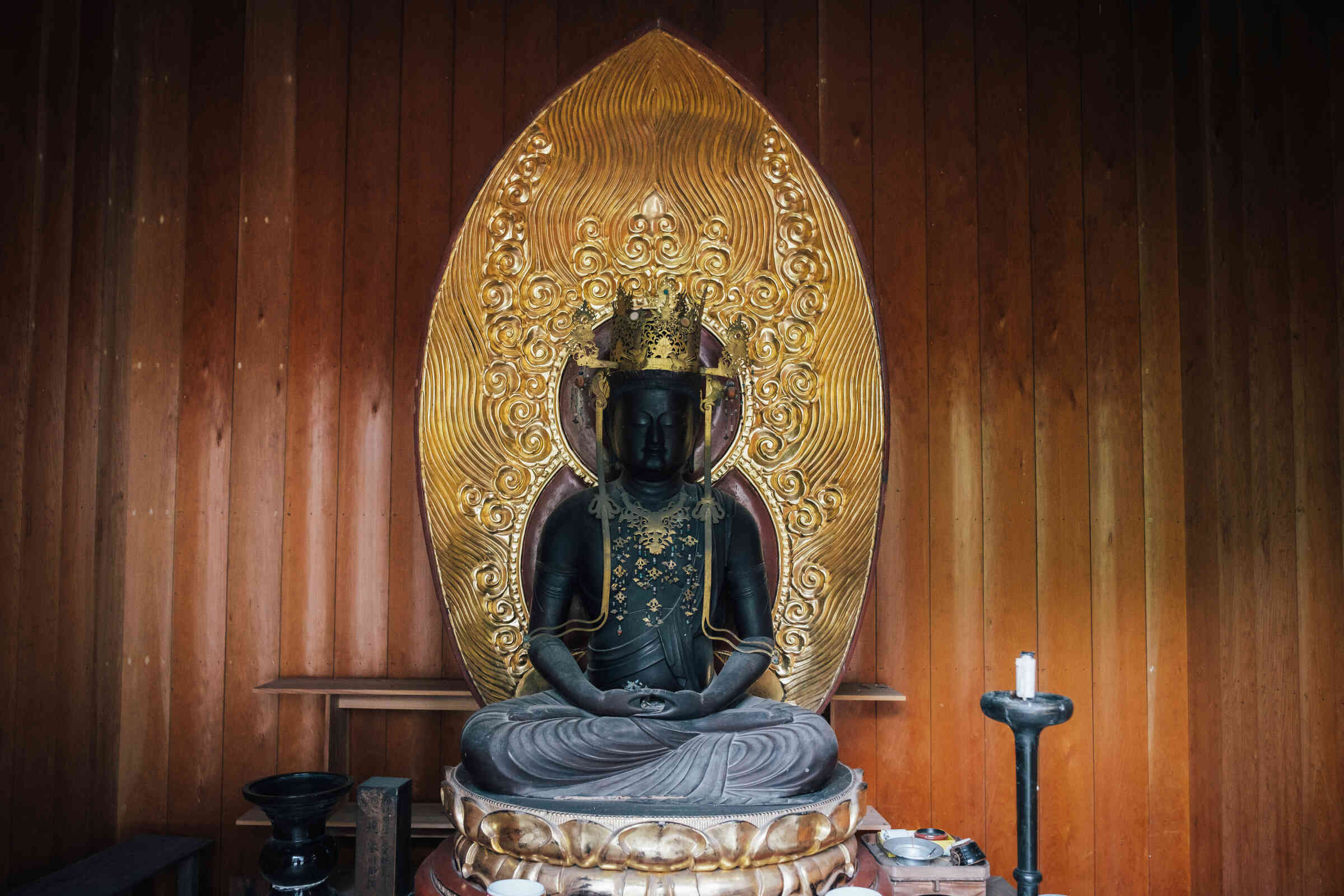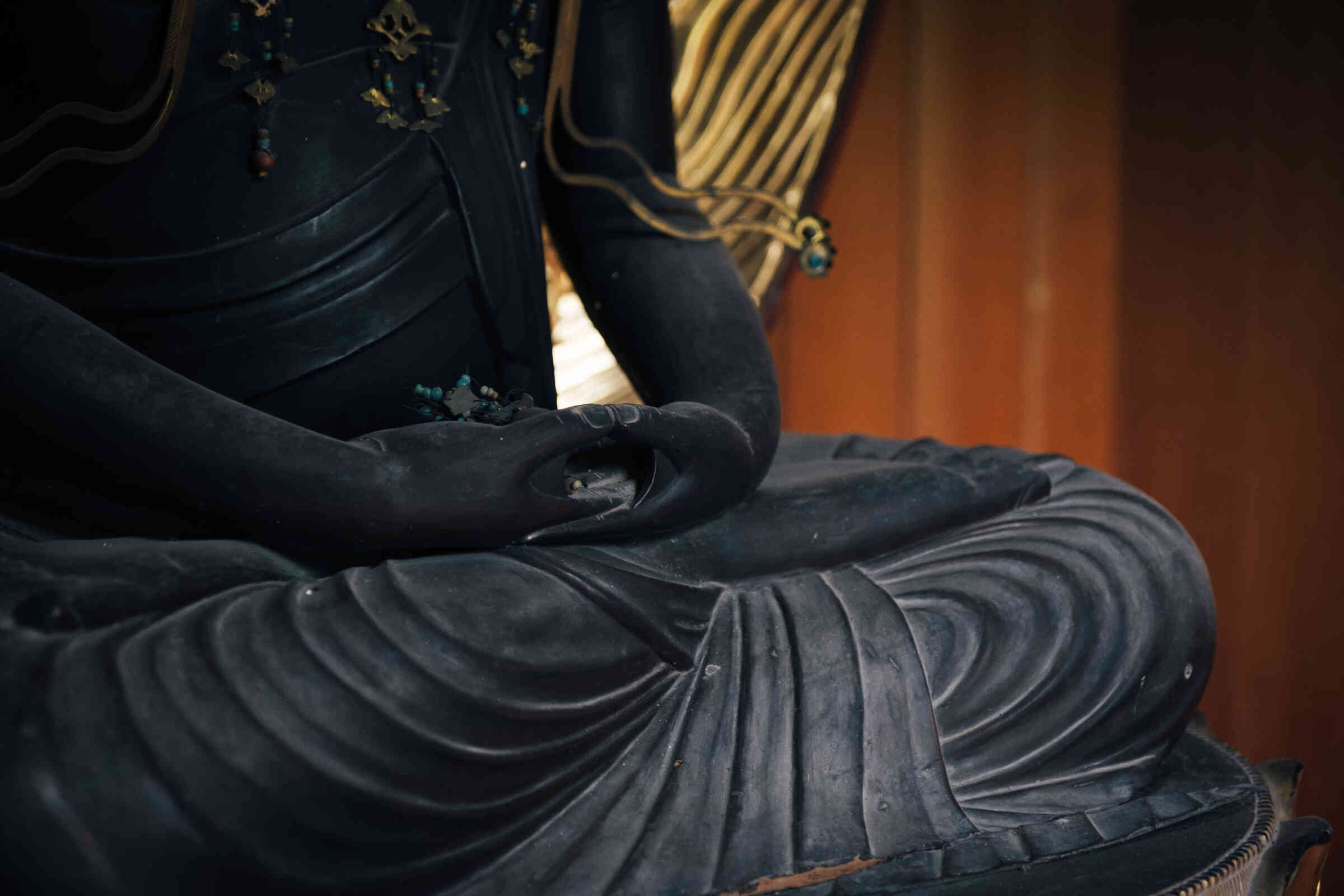 When the chief priest opens the door of the storehouse, a beautiful sitting statue of Mahavairocana appears. This statue, which is said to be Nenjibutsu (Buddhist image used as jewellery or to decorate one's home) of Doyo, is said to have been made in the Fujiwara period. The way he looks down gently and seems to think quietly is very impressive.
住職が収蔵庫の扉を開けると、秀麗な大日如来坐像が現れる。道誉の念持仏といわれるこの像は、藤原時代の作といわれる秘仏。優しく目を伏せ、静かに考えるかのような姿が何とも印象深い。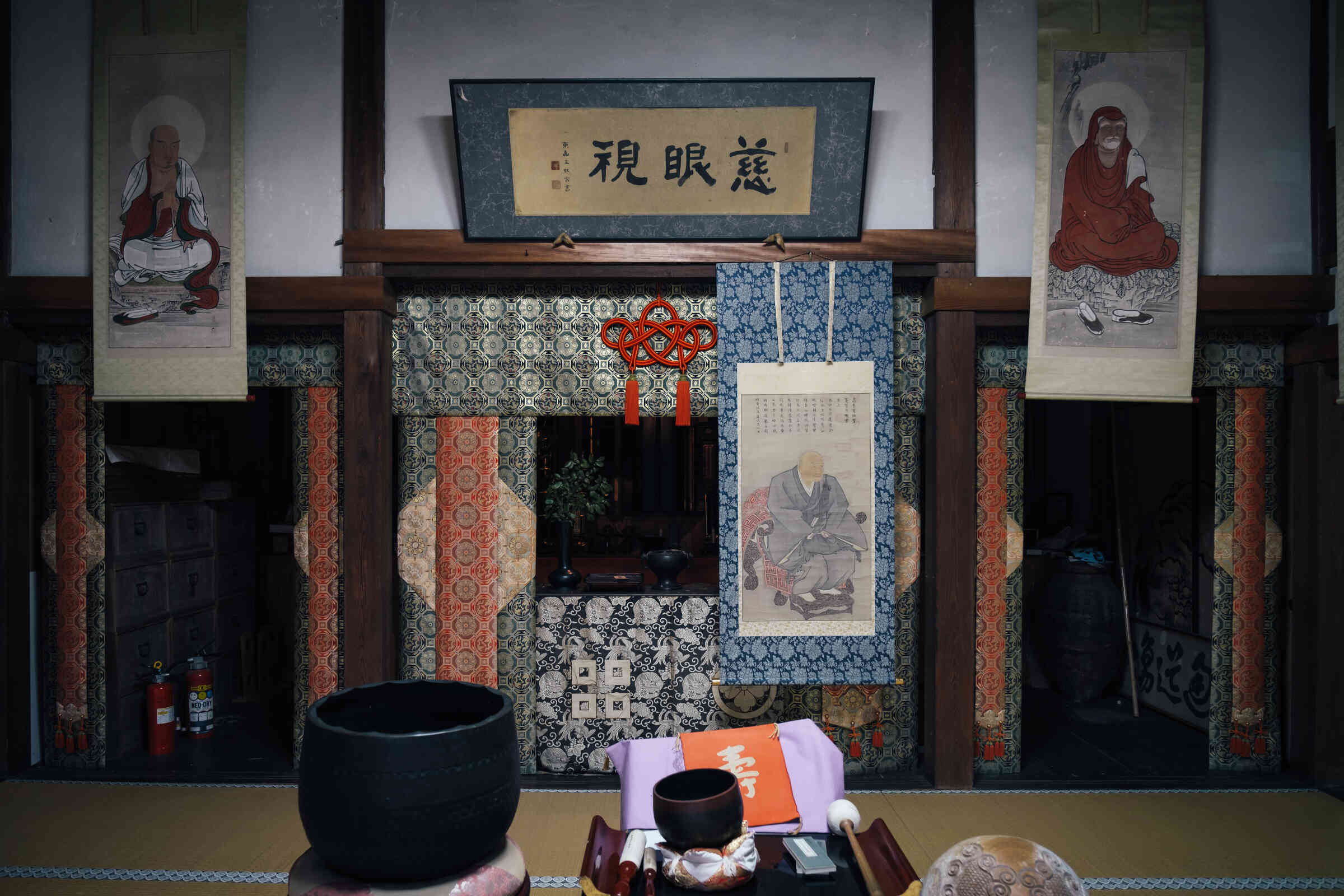 The culture and history of Omi cannot be discussed without Doyo. While he was called Basara daimyo due to his unparalleled boldness and flamboyant behavior, he was well versed in Noh, Kyogen, Sarugaku, tea ceremony, and Renga. He is known as a man of culture with the highest sense of beauty.
近江の文化と歴史は道誉なしでは語れない。その豪放無比な言動と派手な振る舞いから婆裟羅(ばさら)大名と呼ばれた一方、能、狂言、申楽、そして茶道、連歌にも精通。一流の美意識を持ち合わせた文化人として知られる。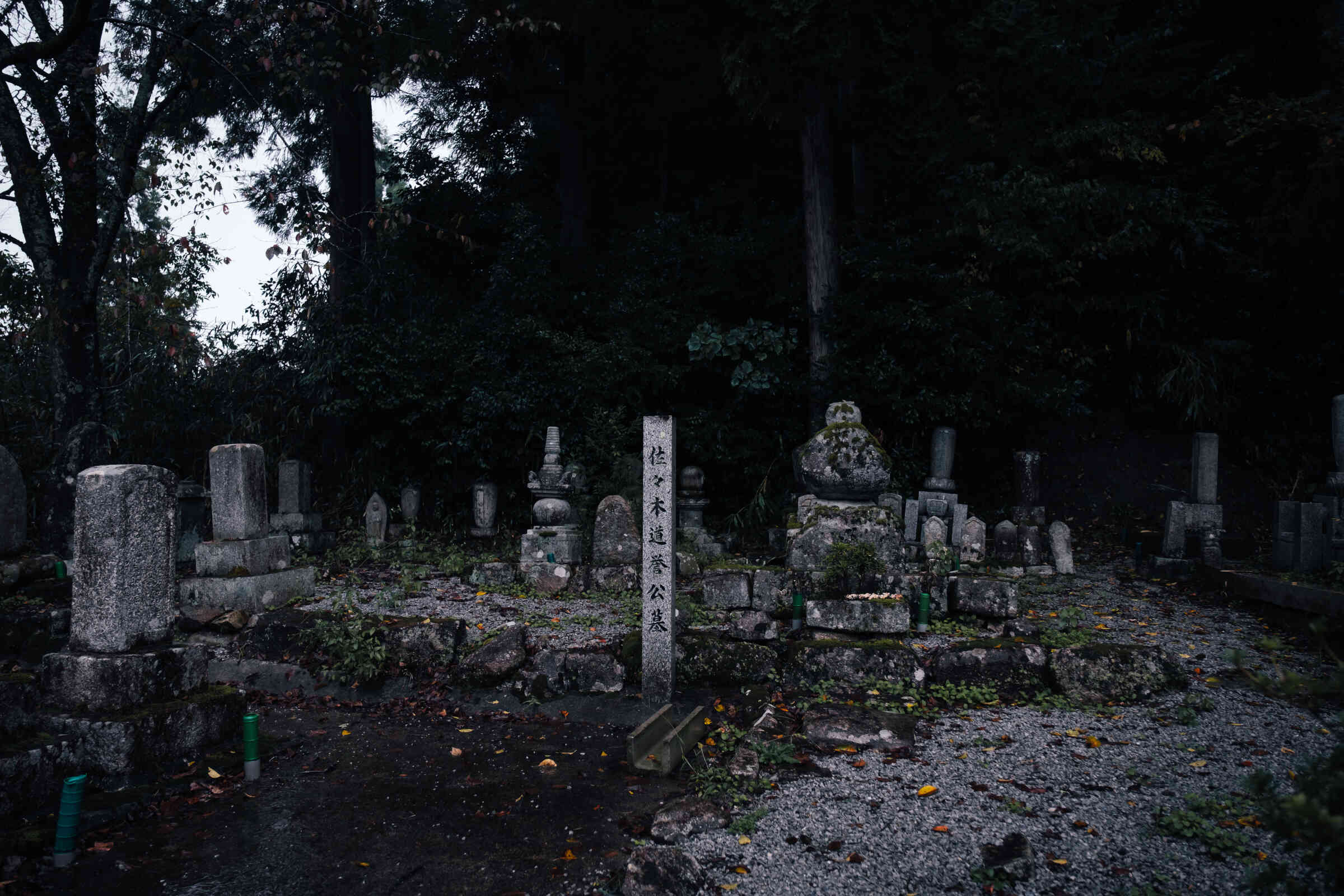 In the cemetery on the north side of the main hall, Doyo Sasaki's tomb also remains.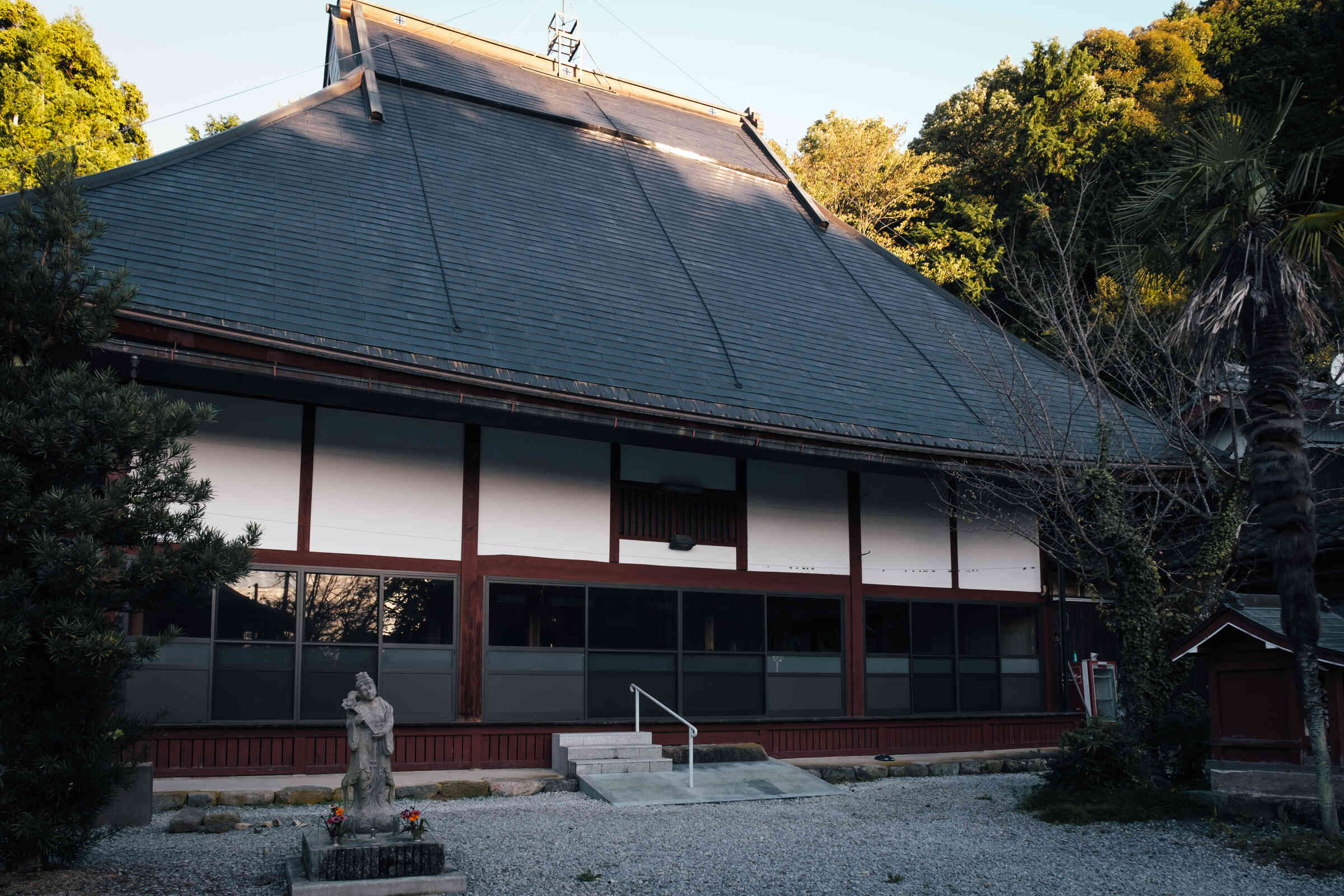 There is a pond on the side of the precincts. When Shoraku-ji Temple was devastated by fire, villagers cleverly managed to bury the statue of Mahavairocana in this area. After the fire was extinguished, when the pond was dug up, a spring of water sprang up, and since then it has been called Dainichi Pond because it has never dried up.
境内の脇には池がある。勝楽寺が兵火にみまわれた際、村人たちが機転を利かせて大日如来像をこの地に埋め難を逃れた。鎮火後掘り出したところ、そこから水が湧き出し、以来涸れたことがなく大日池と呼ばれてきた。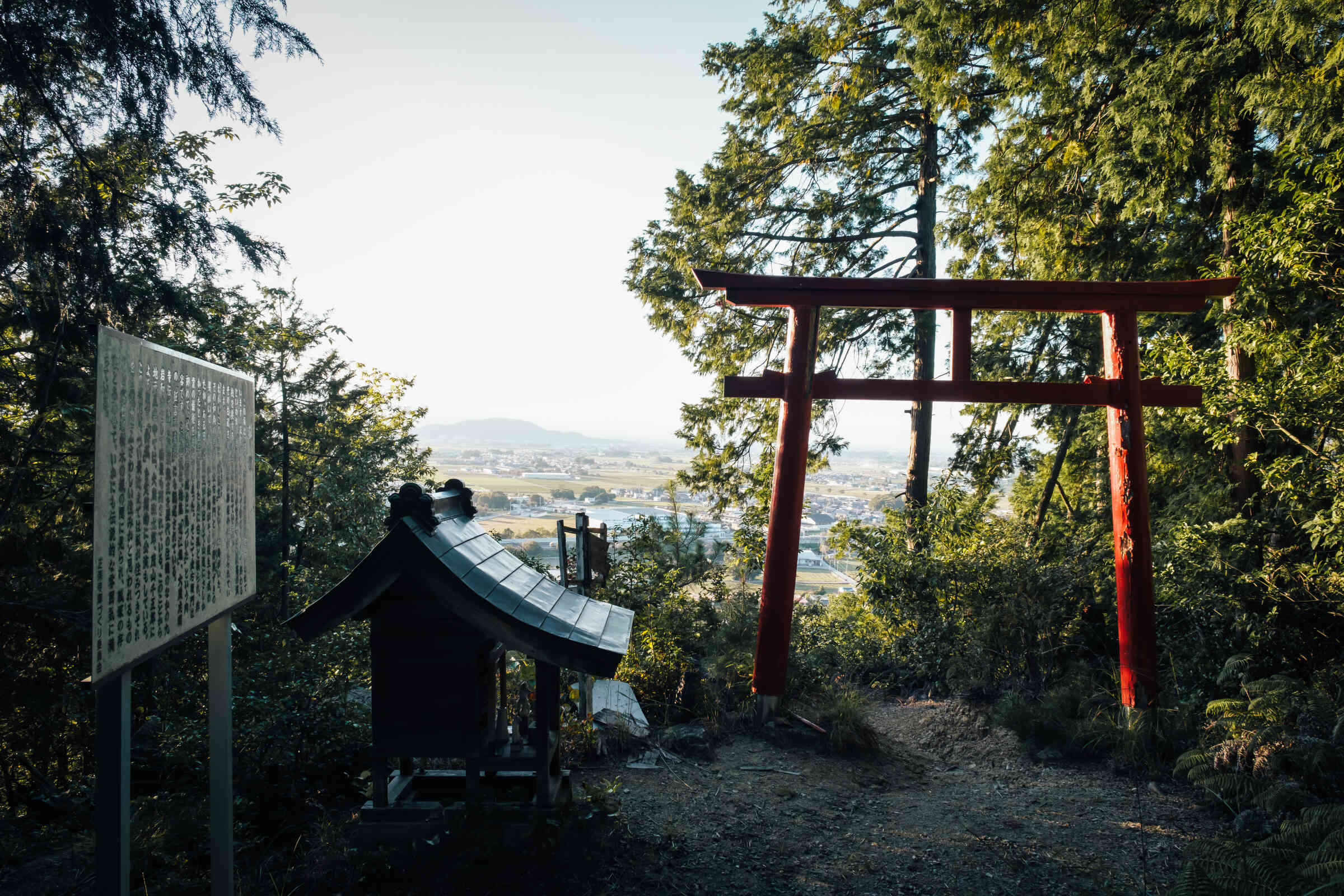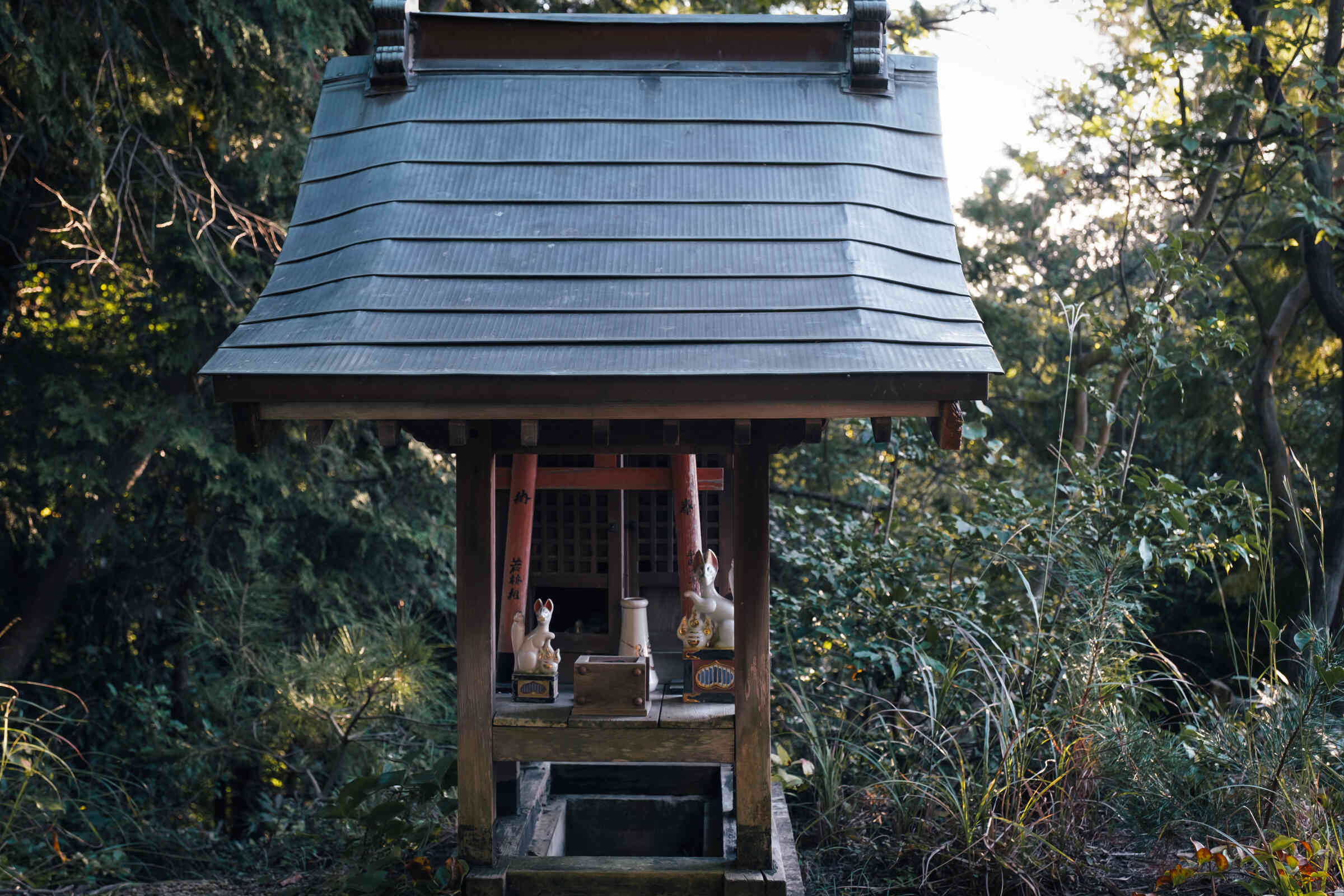 At the top of the ridge line, the ruins of Shoraku-ji Castle remain, so I just climbed the long mountain road. On the way, I came to a place with a view overlooking Omi. This red torii gate and shrine is said to be the birthplace of the Kyogen play "Tsurigitsune."
尾根筋を辿っていった頂上には、勝楽寺城跡が残るということで、長い山道をひたすら登る。その途中、近江を見渡す眺望が開ける場所に出た。この赤い鳥居と祠は、狂言「釣狐」発祥の地であるのだとか。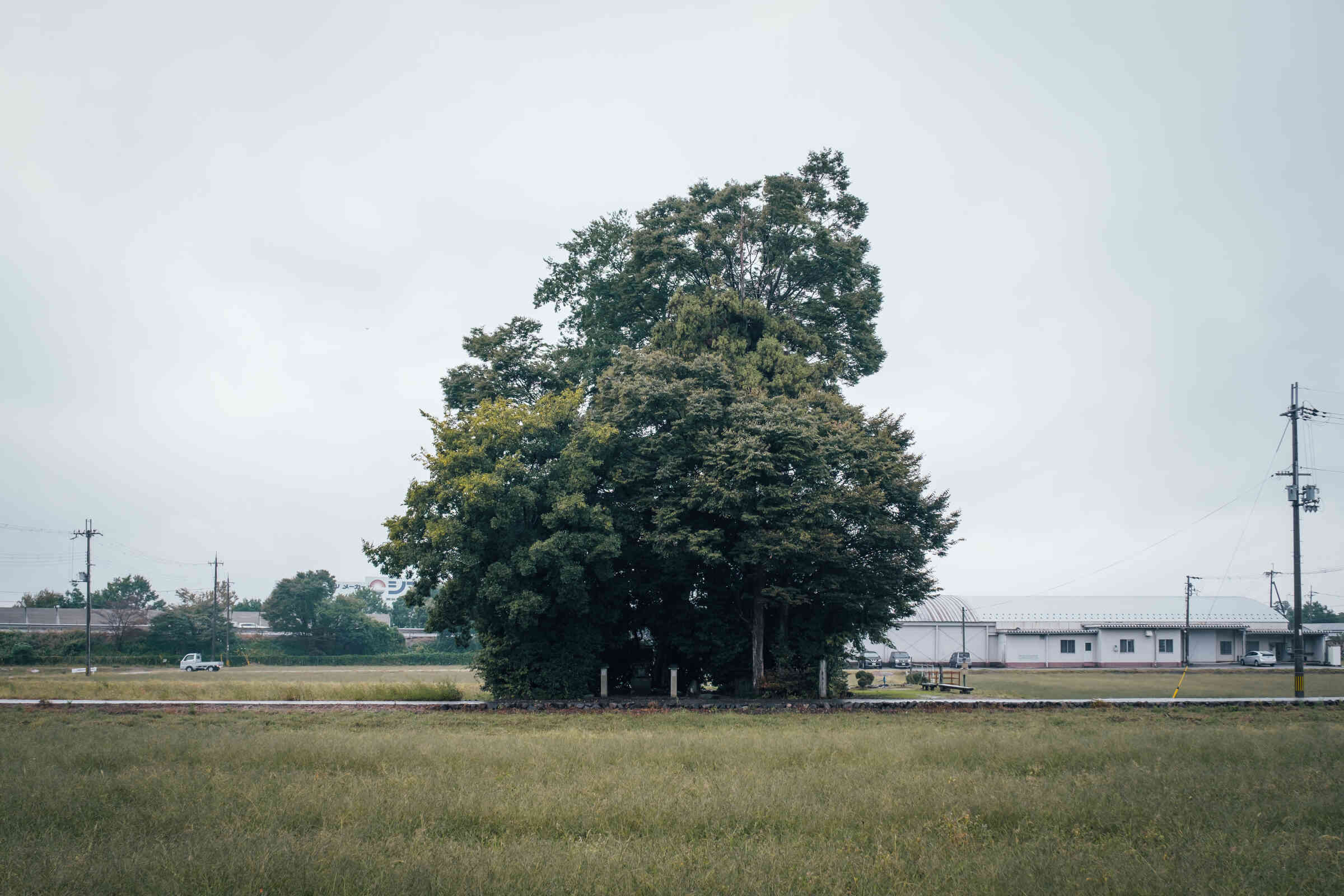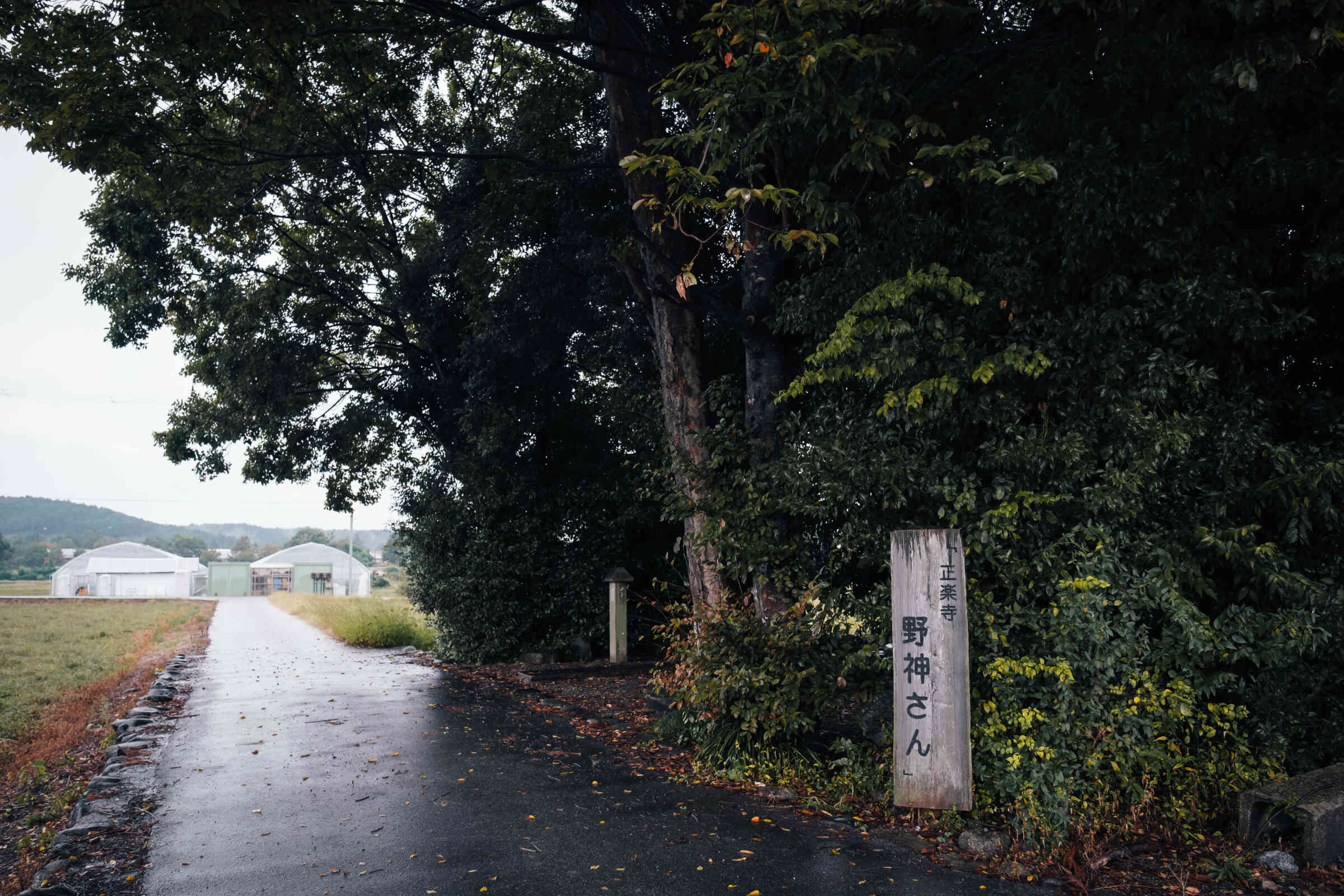 I left the temple precincts and strolled around. There was a place where large trees piled up like mountains. This is "Nogami-san" of the Nogami faith, which has been alive in the Koto and Kohoku areas of Shiga Prefecture for a long time. A valuable intangible folk cultural asset that conveys the religious life of the region based on the simple belief in natural gods. There was a mysterious divineness that made me feel nostalgic for my childhood.
さらに寺域を出て周辺を散策する。大木が重なり合うようにもっこりと山のようになっている。これは滋賀県湖東・湖北地域に古くから息づいてきた、野神信仰の「野神さん」。素朴な自然神信仰に基づく、地域の信仰生活を伝える貴重な無形の民俗文化財。子供の頃の懐かしさを感じさせるような、不思議な神々しさが漂っていた。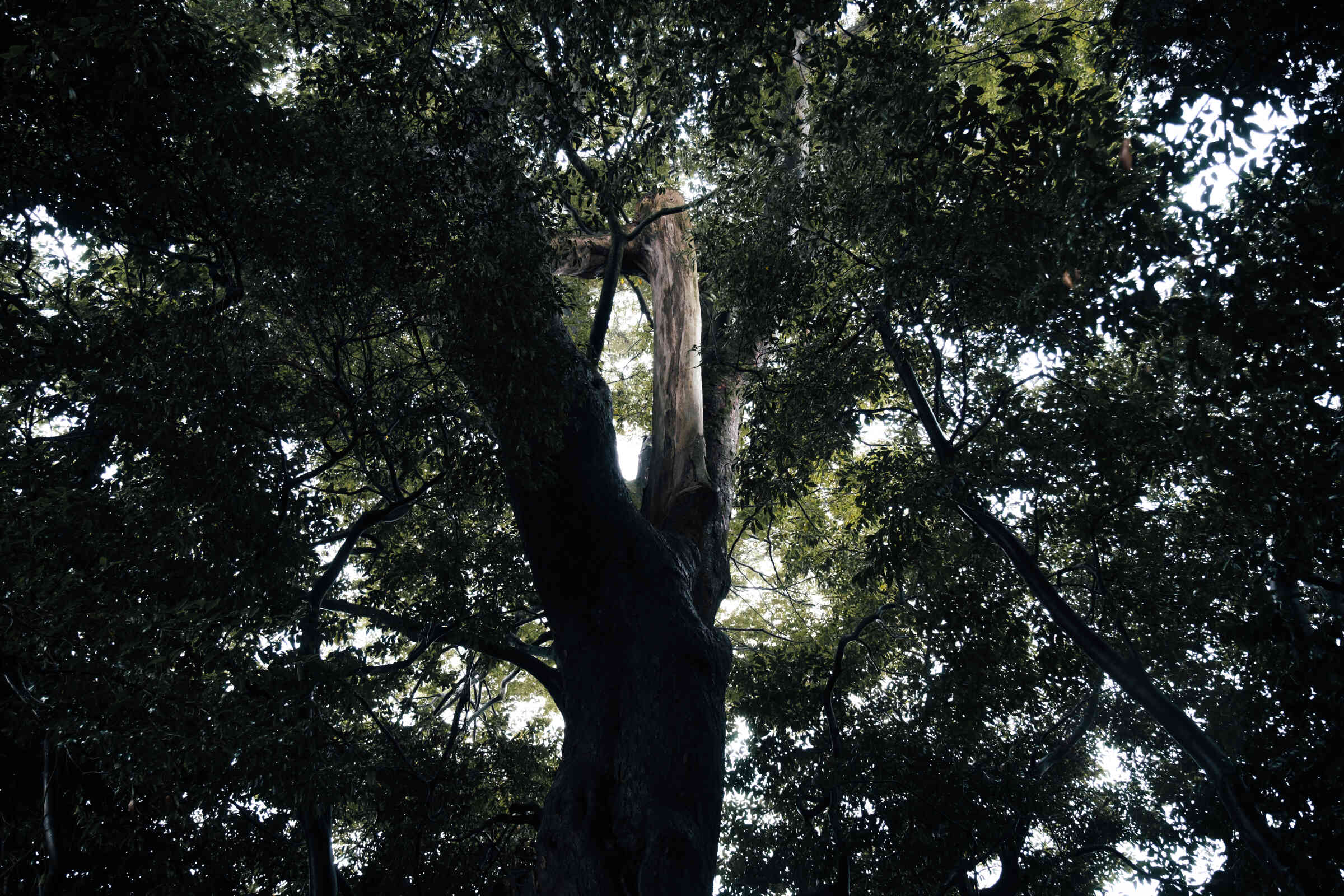 Culture and faith that have been spun together with nature in the rich mountains and rivers. The temple deep in the mountains was enveloped in an air of desolate mystery.
豊かな山河の中で、自然と共に紡がれてきた文化と信仰。山深き寺院は、荒漠たる神秘の空気に包まれていた。
Location: 4 Shorakuji Temple, Koura-cho
Phone: 0749-38-2041
電話:0749-38-2041
<重文>木造大日如来坐像 絹本著色佐々木高氏像