Mangetsuji Ukimido | "Ukimido with raindrops of May rain"- A beautiful view of nature from the middle of the lake.
満月寺浮御堂 | 「五月雨の雨垂ばかり浮御堂」−湖中からの風化雪月の眺望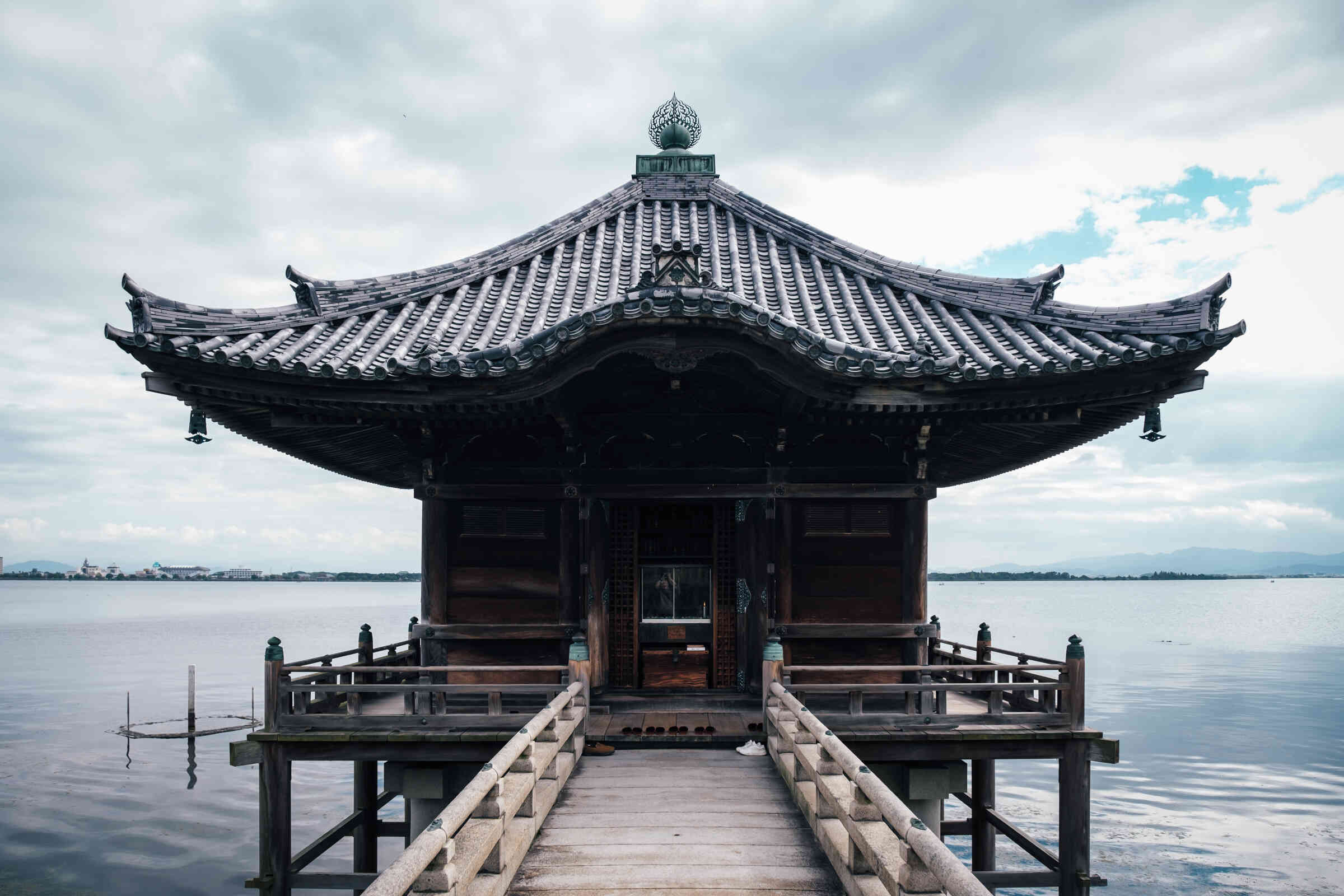 Ukimido, one of the eight scenic spots in Omi, is famous as Katata's falling geese. It is a scene of a flock of geese swooping down from the sky. The beautiful scene seems to come to mind as one gazes at the surface of the lake, which reflects the morning sun and quietly rustles.
近江八景の一つ、堅田の落雁として有名な浮御堂。それは、中天から一群の雁の群れが舞い降りる情景。朝日を映し、静かにさざめく湖面を眺めていると、その美しい情景が目に浮かぶようだ。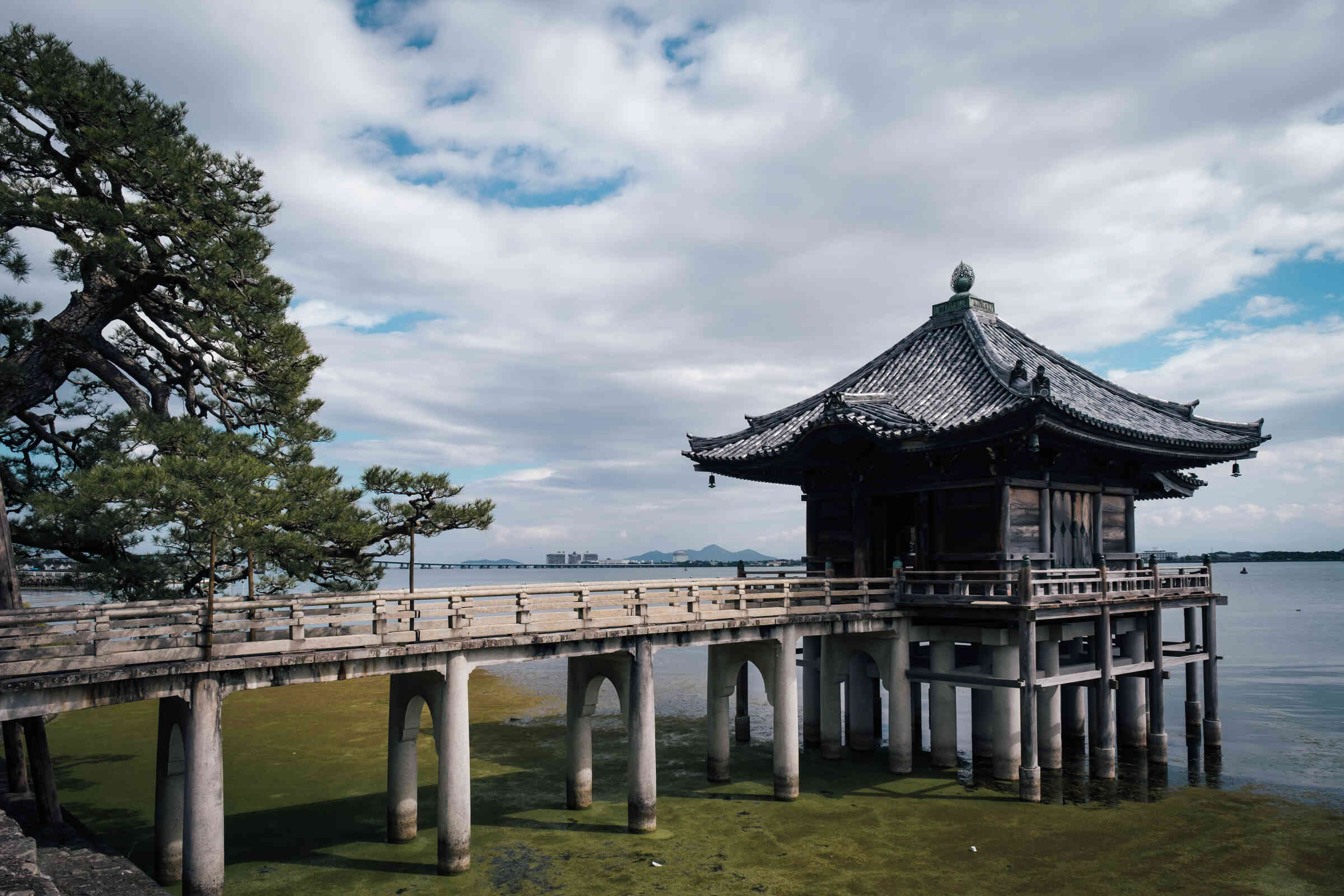 Ukimido is located at the narrowest part of Lake Biwa and is a Zen temple called Kaimonzan Mangetsuji Temple and belongs to Murasakino Daitokuji Temple in Kyoto. Around 995, during the reign of Emperor Ichijo (the Chotoku era), Eshin Sozu Genshin, who lived at Yokawa Eshin-in Temple on Mt. Hiei carved 1,000 Amitabha statues himself and called them 'Senbutsukaku' and 'Thousand Buddha temples', and started by praying for the safety of boats on the lake and the salvation of all people. Eshin Sozu Genshin is the author of "Ojoyoshu", which had a great influence on Japanese religious thought and established the foundation of Jodo Shinshu Buddhism. He is a person who is looked up to as the sixth ancestor of Shinshu sect.
浮御堂は、琵琶湖の最狭部に位置し、海門山満月寺と称する禅寺で京都紫野大徳寺に属する。一条天皇の995年頃(長徳年間)、比叡山横川恵心院に住した恵心僧都源信が、琵琶湖を山上より眺め湖中に一宇を建立。自ら一千体の阿弥陀仏を刻んで「千仏閣」「千体仏堂」と称し湖上通船の安全と衆生済度を発願したことに始まる。恵心僧都源信は、我が国の宗教思想に大きな影響を与え、浄土教学の基礎を樹立した「往生要集」の著者。真宗伝灯第六祖と仰がれている人物だ。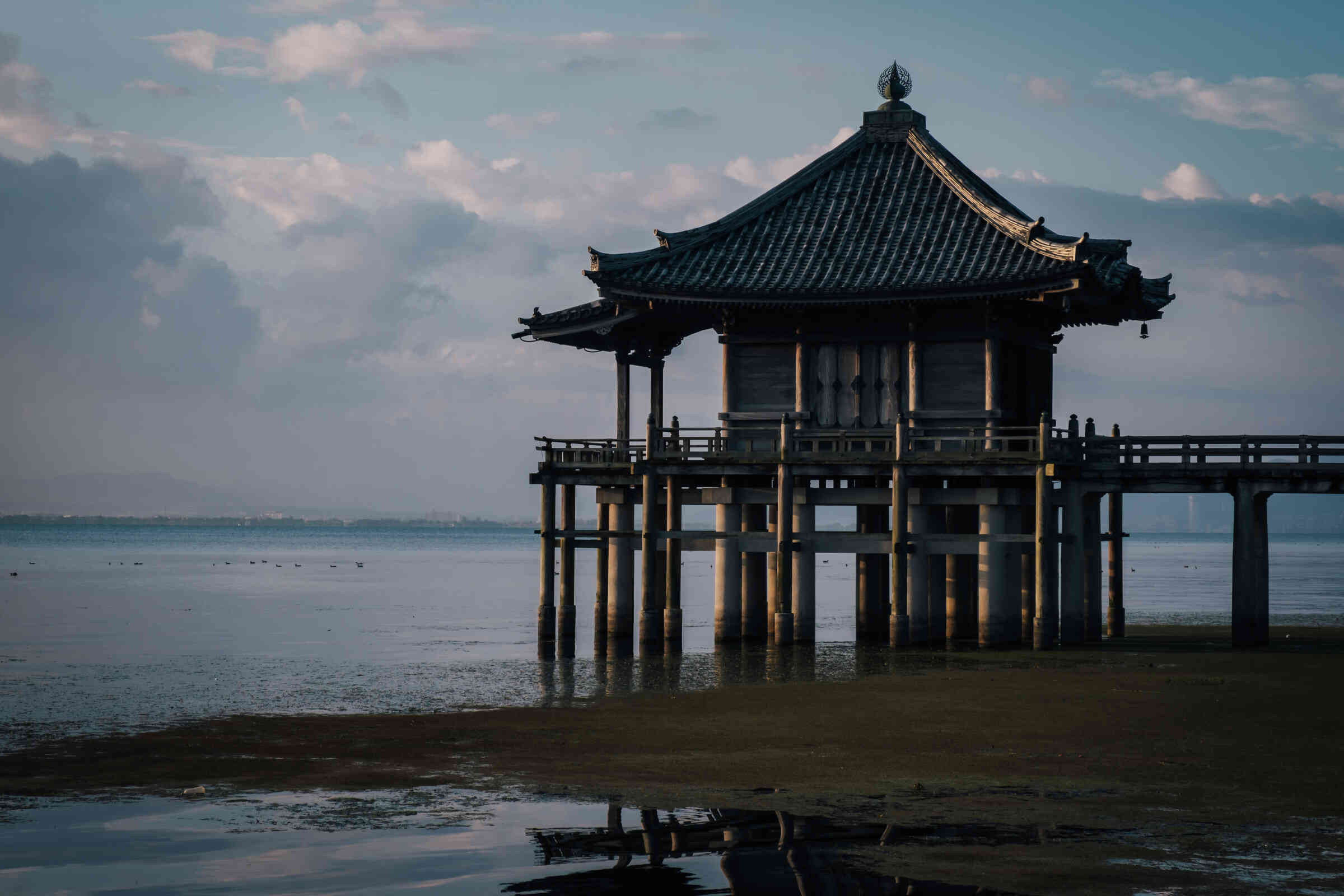 Ukimido that sticks out into the lake. You can see Mt. Ibuki, Mt. Chomeiji, Mt. Omi Fuji (Mt. Mikami), Okinoshima to the east, and the Hira mountain range and Mt. Hiei to the west. It is a place with superb scenery, and each season has its own flavor, and the old pine tree on the grounds is also suitable for a quiet temple area.
湖中に突き出ている浮御堂。東に伊吹山、長命寺山、近江富士(三上山)、沖の島、西に比良連峰、比叡山等、眼前に湖水を一眺することができる。風景絶佳の地点で風化雪月それぞれの趣があり、境内の老松も閑寂な寺域にふさわしい。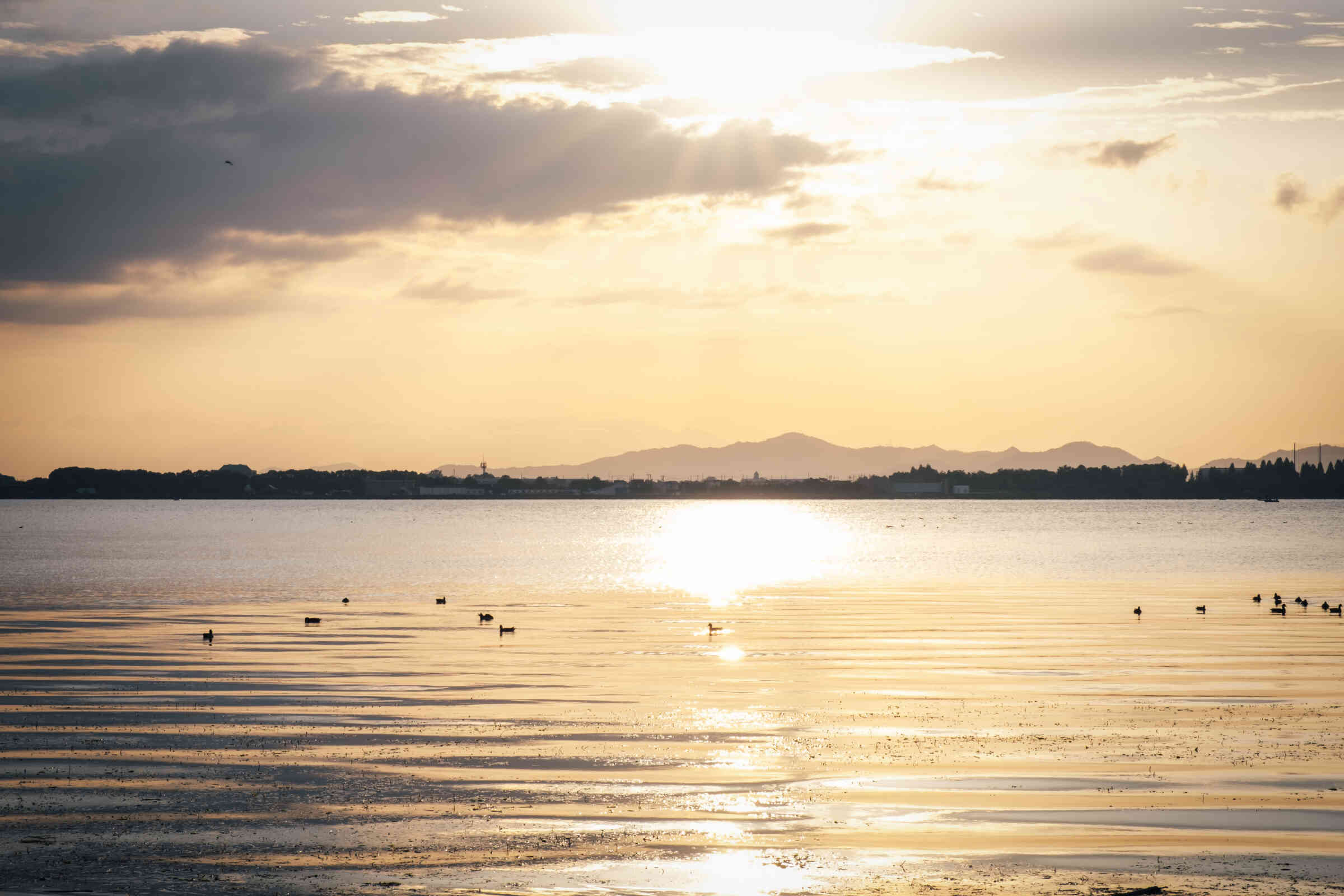 Since ancient times, Katata has been close to Kyoto and has been an important point for transportation on the lake.
"Ukimido full of raindrops in May rain" Near the main gate, there is a blue ridge monument that depicts the beauty of Ukimido that is wet in May rain.
古くより堅田は京都に近く湖上交通の要地で、一休和尚、蓮如上人が錫をとどめ、芭蕉、一茶、広重、北斎等が杖をひいて多くの詞歌、絵画を残している。
「五月雨の雨垂ばかり浮御堂」山門のそばには、五月雨に濡れた浮御堂の美しさを詠んだ青畝の向碑が立つ。
Location: 1-16-18 Honkatata, Otsu City, Shiga Prefecture
Phone: 077-572-0455
所在地:滋賀県大津市本堅田1-16-18
電話:077-572-0455