Ohora Benzaiten | Cut out a beautiful world like a painting. Hikone's sunlight in rich colors.
大洞弁財天 | 一幅の絵のような美しい世界を切り取る。極彩色に彩られた彦根の日光
Northeast of Hikone Castle, the direction of the so-called Omotekimon. A temple of the Ohora sect of Shingon Buddhism located halfway up Mt. Ohora. Its official name is Choju-in, but it has been popularly known as Ohora Benzaiten because it enshrines a seated statue of Benzaiten, which is said to be one of Japan's three major Benzaiten.
彦根城の東北、いわゆる表鬼門の方角。大洞山の中腹にある真言宗醍醐派の寺院。正式名称は長寿院だが、日本三大弁財天の一つといわれる弁財天坐像を安置していることから大洞弁財天の名で親しまれてきた。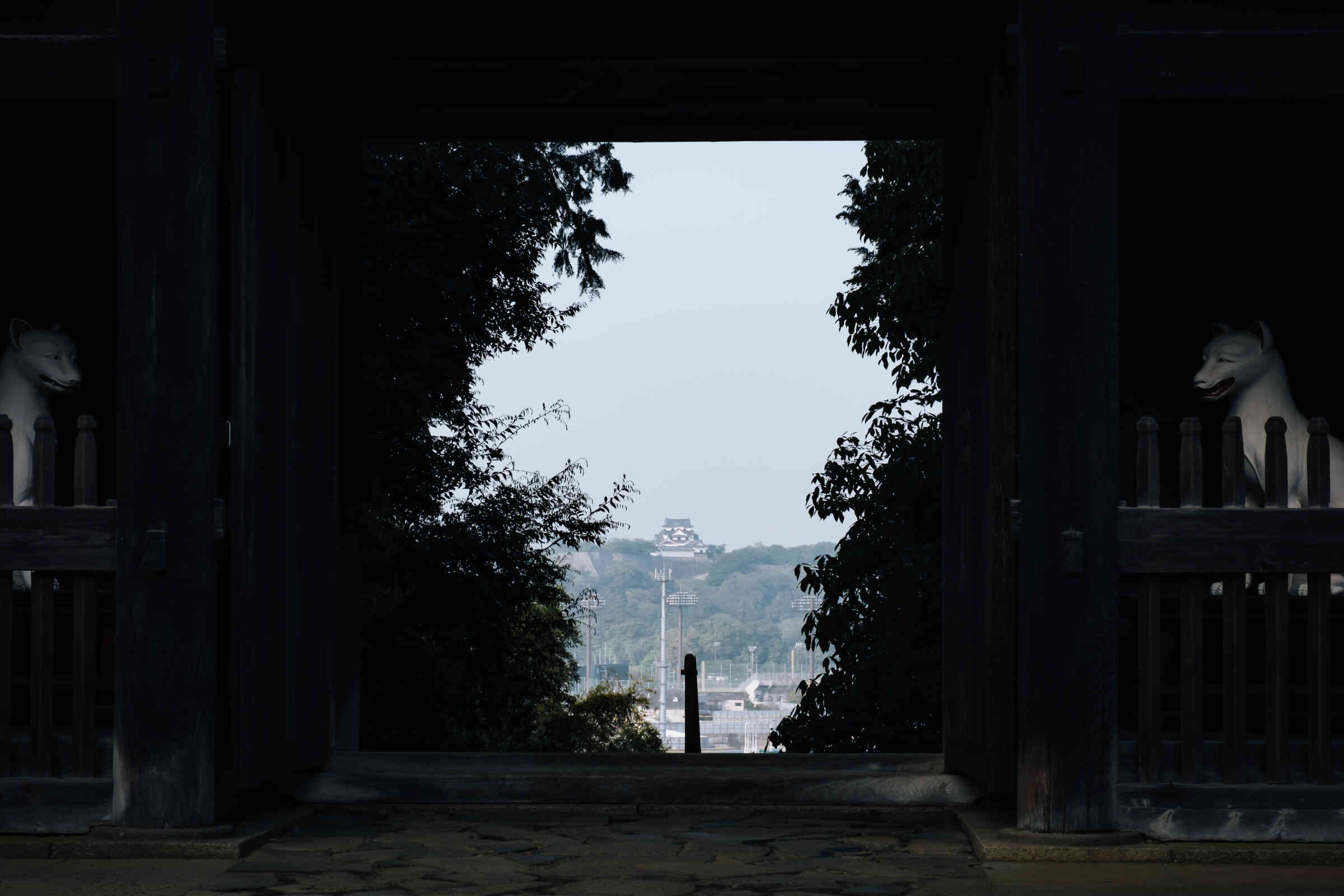 If you look back after climbing the steep stone steps, you will see Hikone Castle floating in the scenery cut out by the main gate. It is like a painting, a beautiful world that has been loved by the people of Omi since ancient times.
急な石段を上った先を振り返ると、山門に切り取られた風景に浮かぶ彦根城が。それはまるで一幅の絵のような、古来より近江の人々に親しまれてきたであろう美しい世界。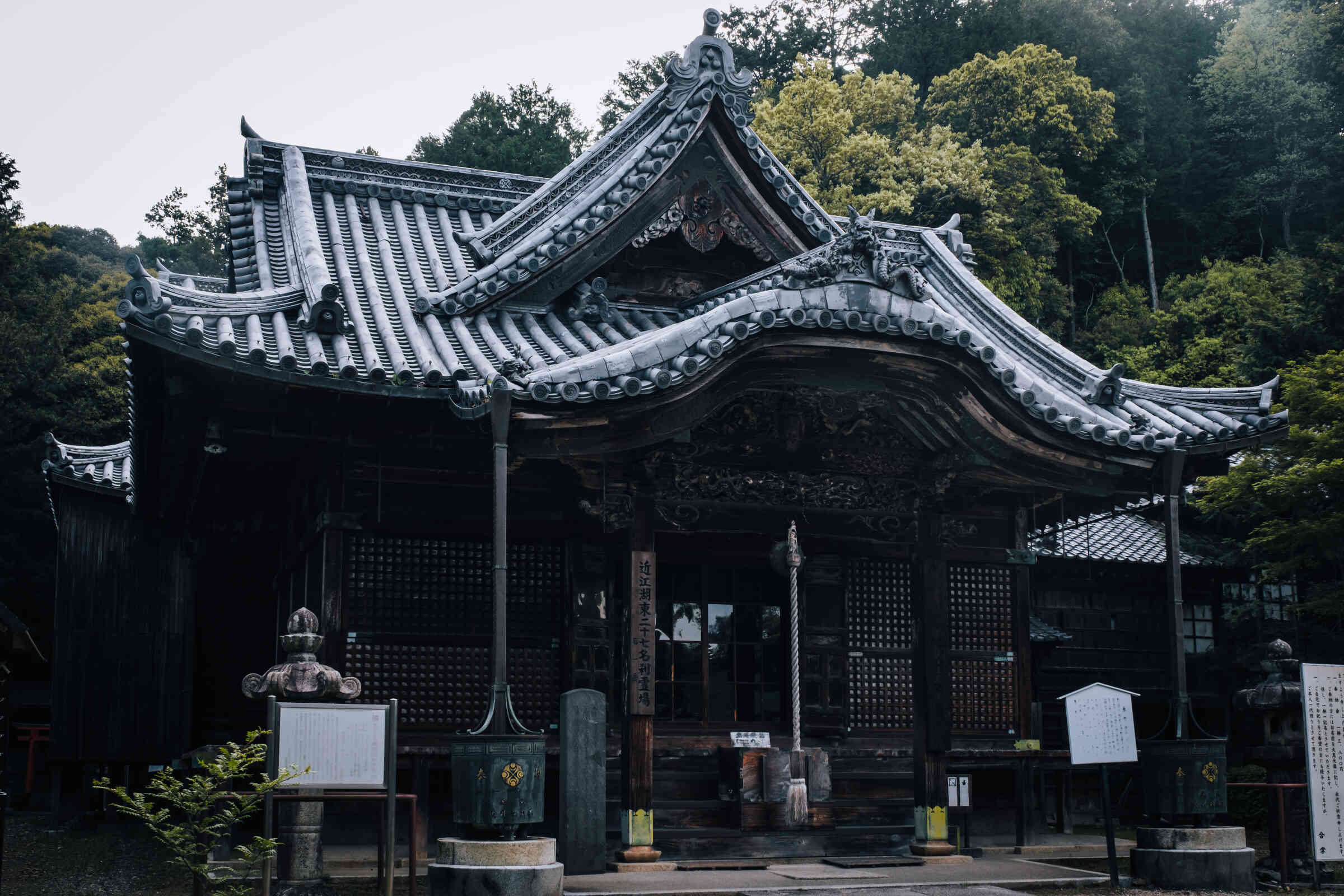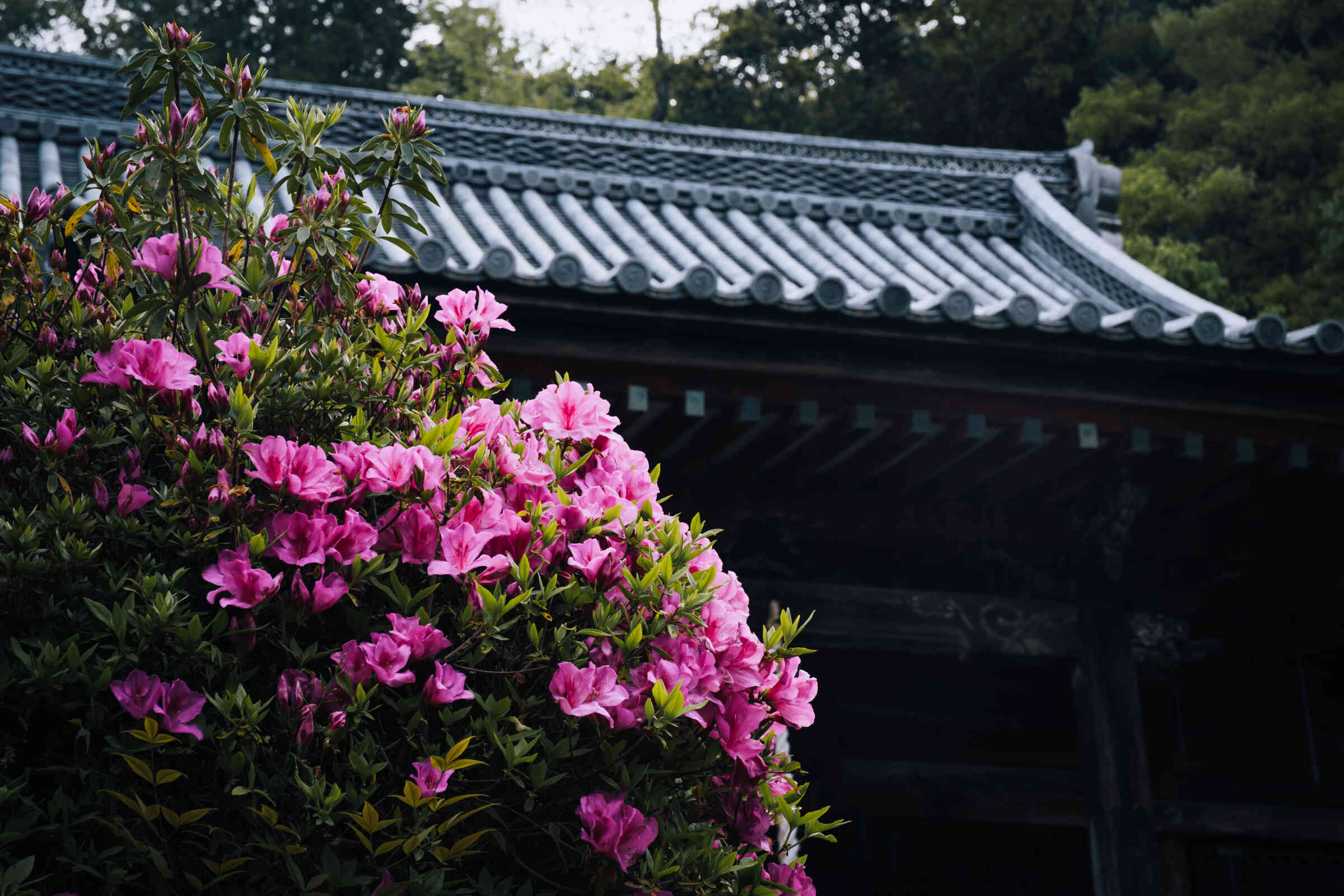 It is said that Naoki Ii, the 4th lord of the domain, built the castle to ward off evil and protect the castle. In 1688, Naooki, who was appointed as Nikko Toshogu Shrine Renovation General Magistrate, is said to have built it out of a desire to show the people of his domain the artistic architecture of this Kora carpenter.
第4代藩主・井伊直興が、厄除け、そして城を守る備えとして建立したものと言われている。1688年に日光東照宮改修総奉行を任じられ成し遂げた直興は、領民にもこの甲良大工による芸術的な建築を見せたいという思いからで建造にあたったとされる。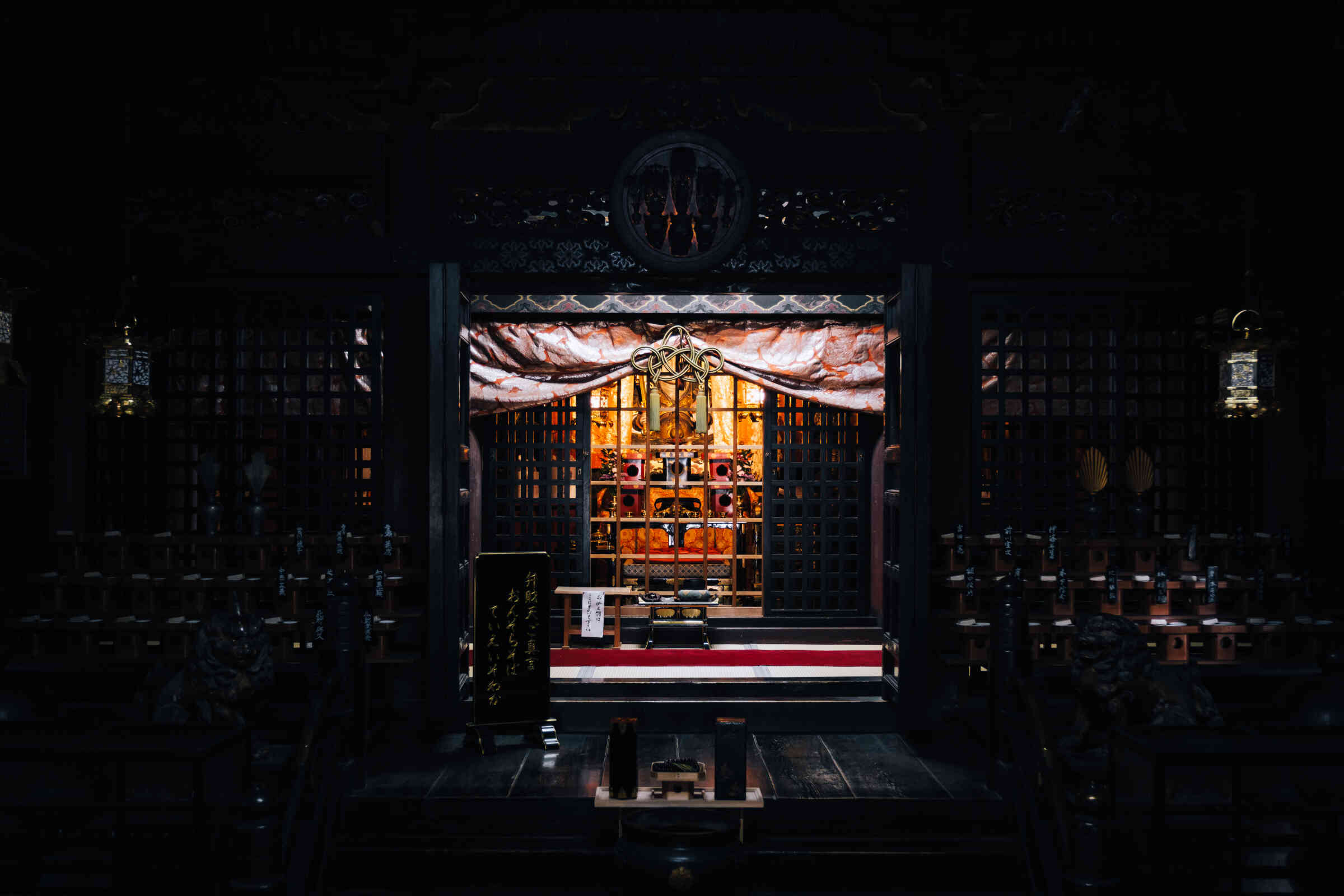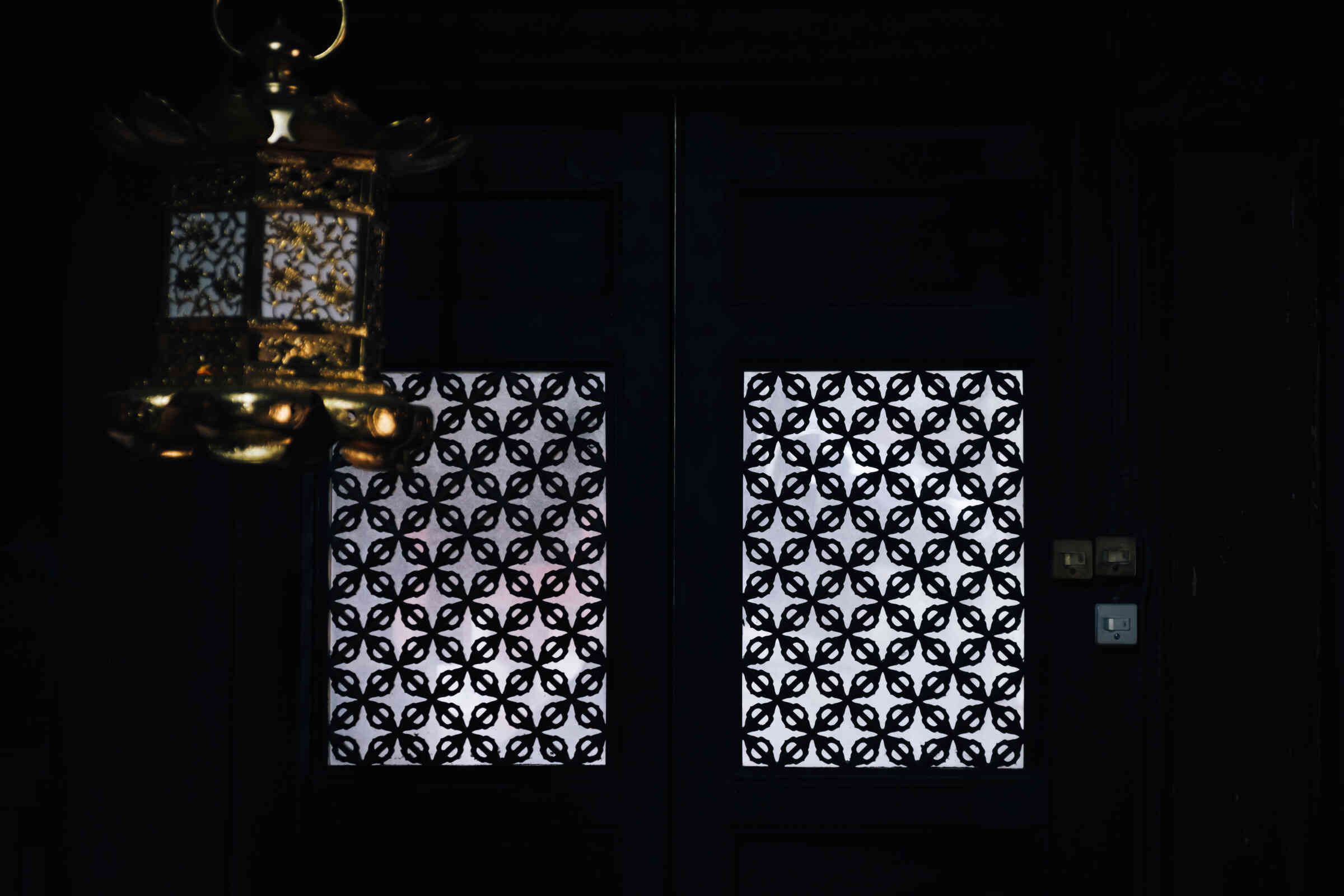 Benzaiten-do hall in Gongen-zukuri style. It retains the characteristics of the architecture of the Genroku period, with carvings and rich colors in various places.
中心となる権現造りの弁財天堂。各所に彫刻を施し極彩色で彩る元禄時代建築の特色をよく残している。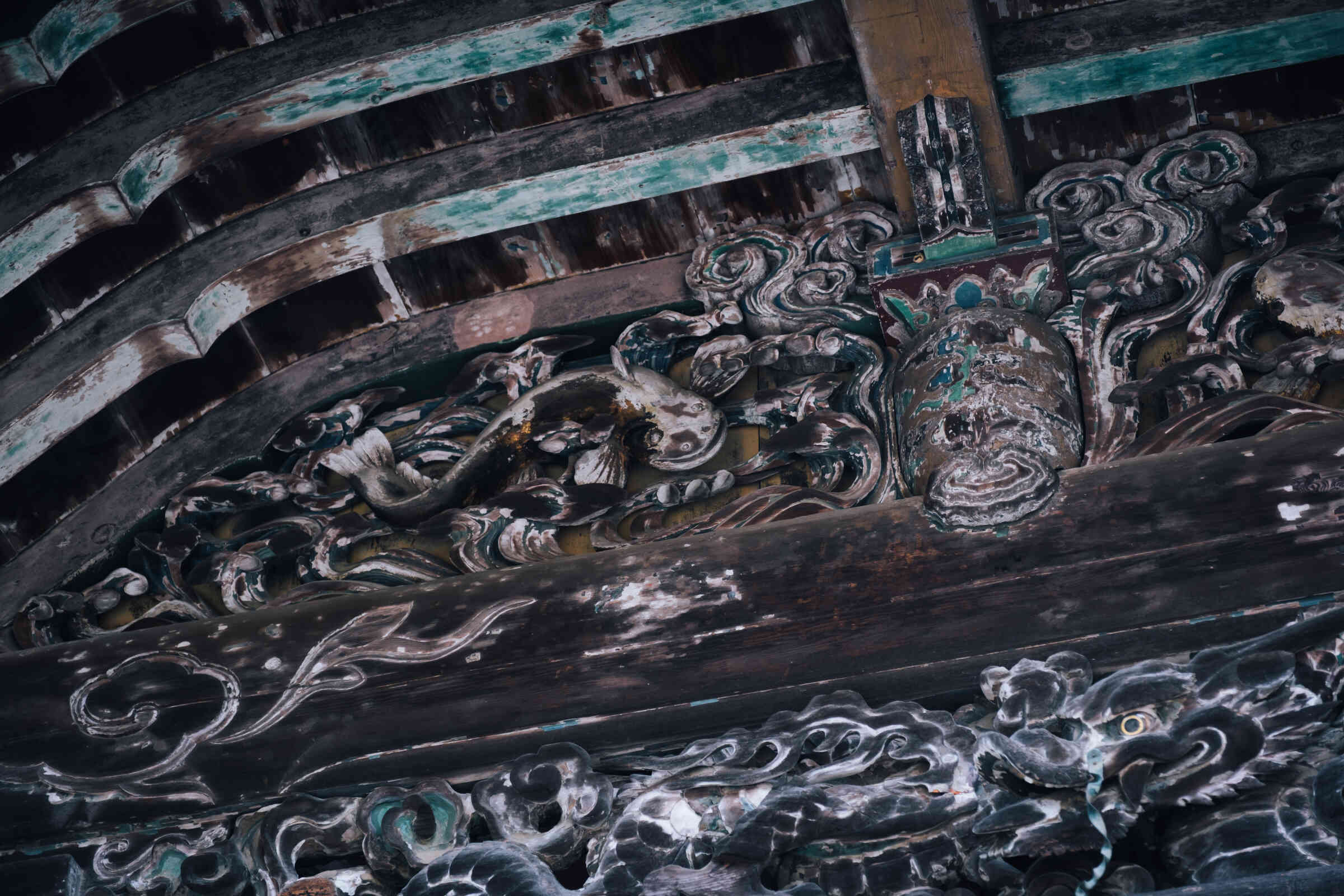 In the transom carving, you can also see the statue of catfish, which is said to be a messenger of Benzaiten.
欄間彫刻には、弁財天のお使いとされるナマズの像も見られる。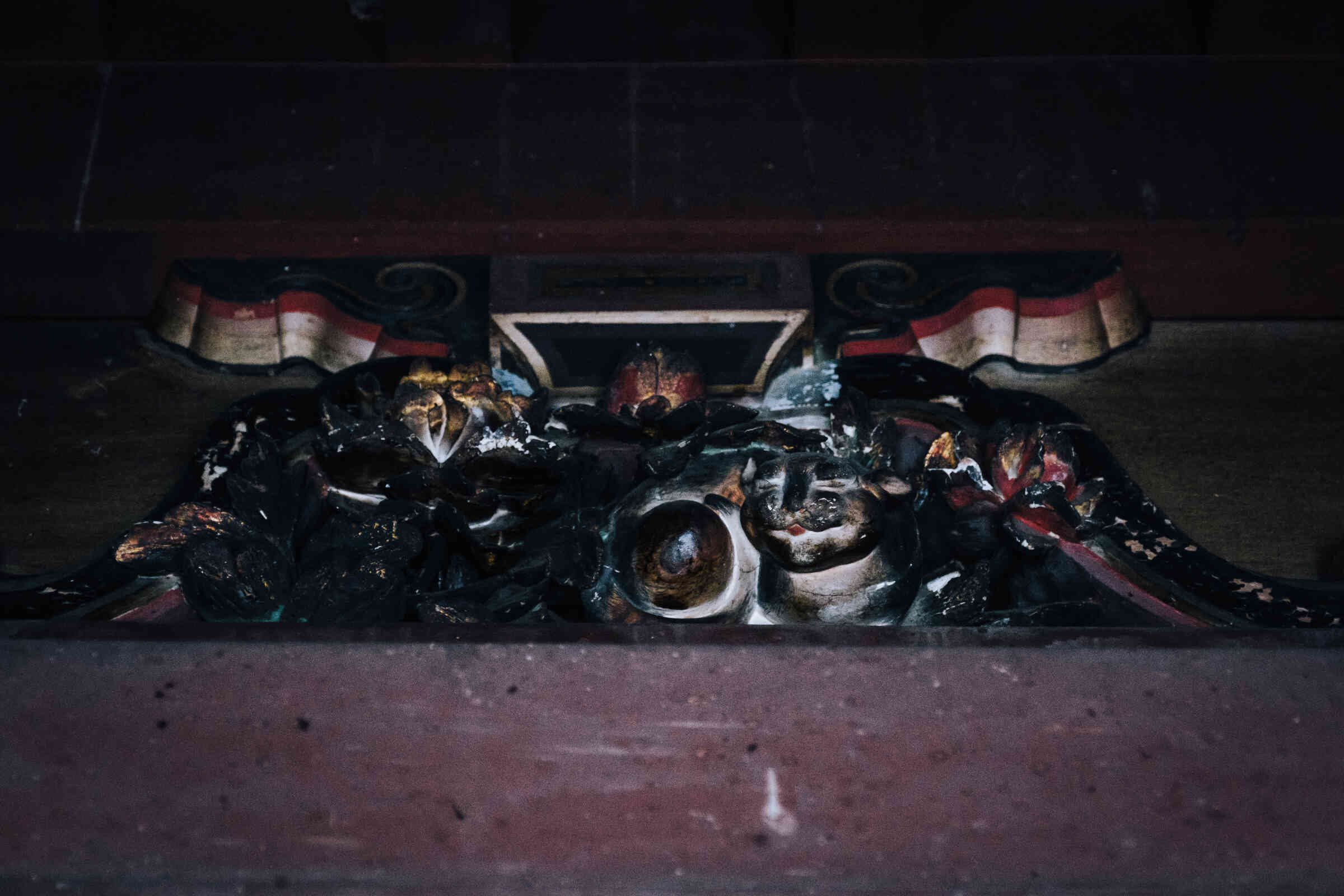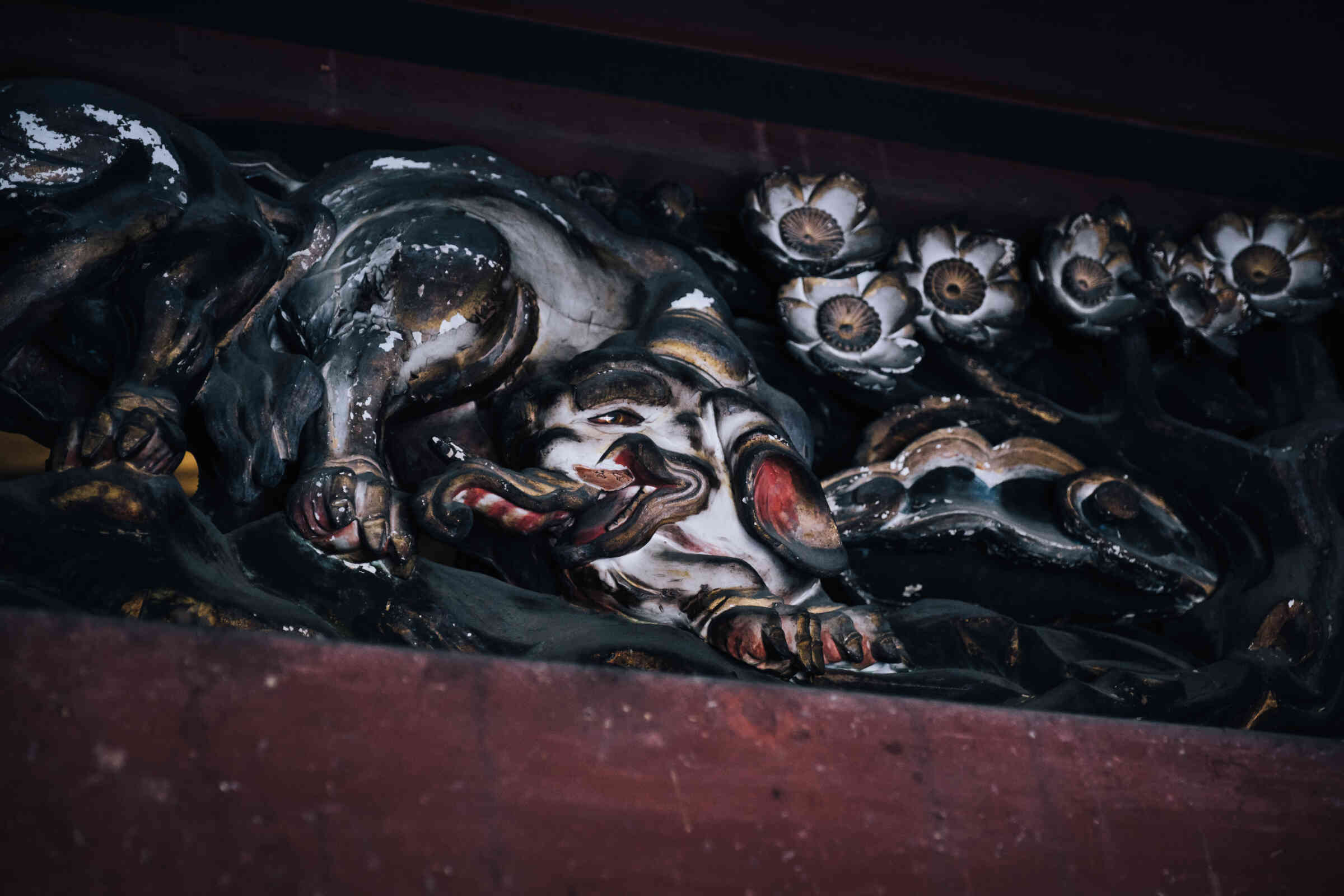 Located next to Benzaiten-do Hall, Amida-do Hall is characterized by its interior being more solemn than its exterior. You can see sculptures of sleeping cats and elephants in the richly colored ranma.
弁財天堂の隣に位置する入母屋造りの阿弥陀堂は、外観よりは内部を荘厳にしているのが特徴。極彩色の欄間には、眠り猫や象の彫刻を見ることができる。
Ohora Benzaiten, which retains traces of lacquer and coloring, and has wonderful carvings inside and out, is also called Hikone Nikko.
漆塗りや彩色の名残を留め、内外に素晴らしい彫刻が施されている大洞弁財天は、彦根日光とも呼ばれている。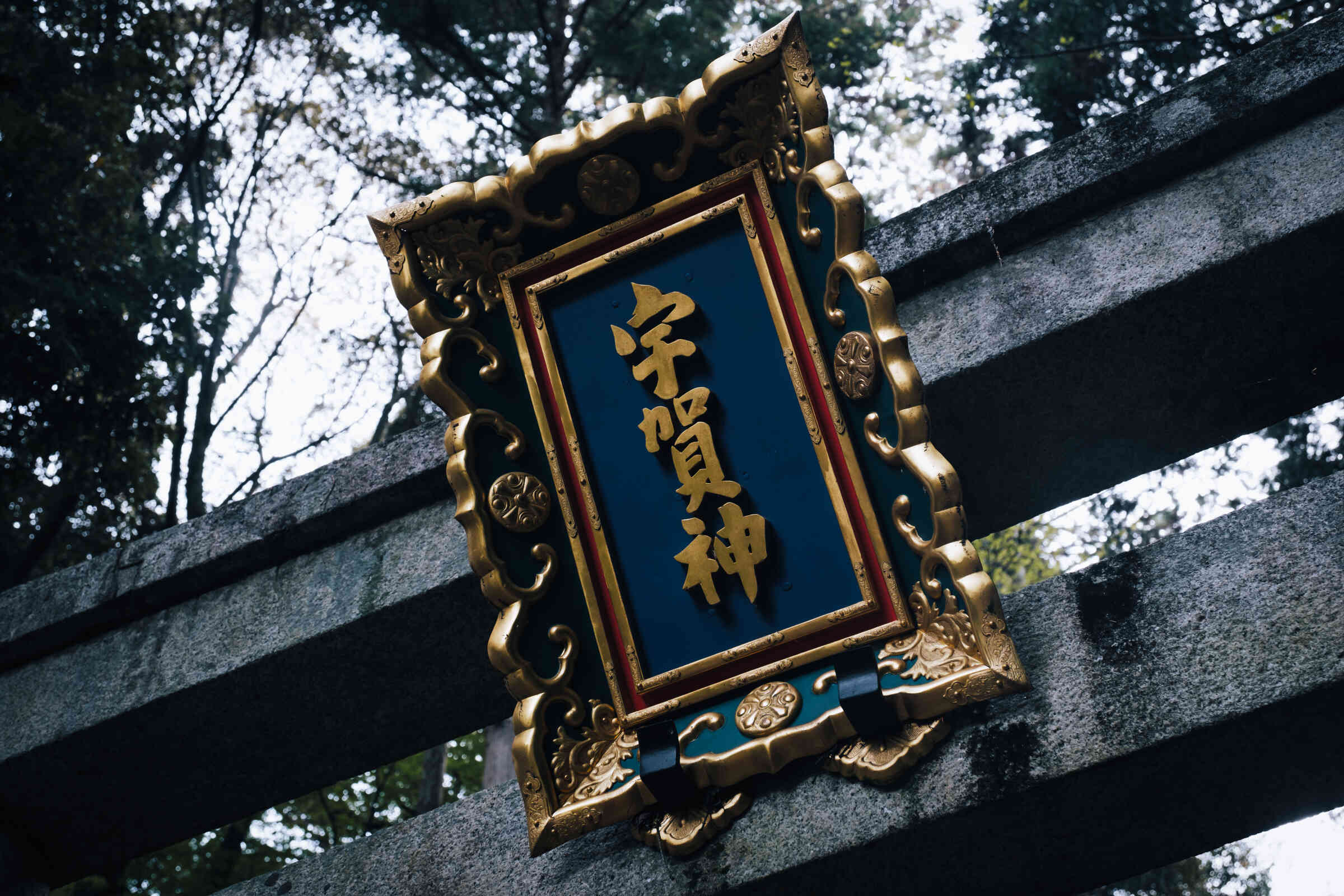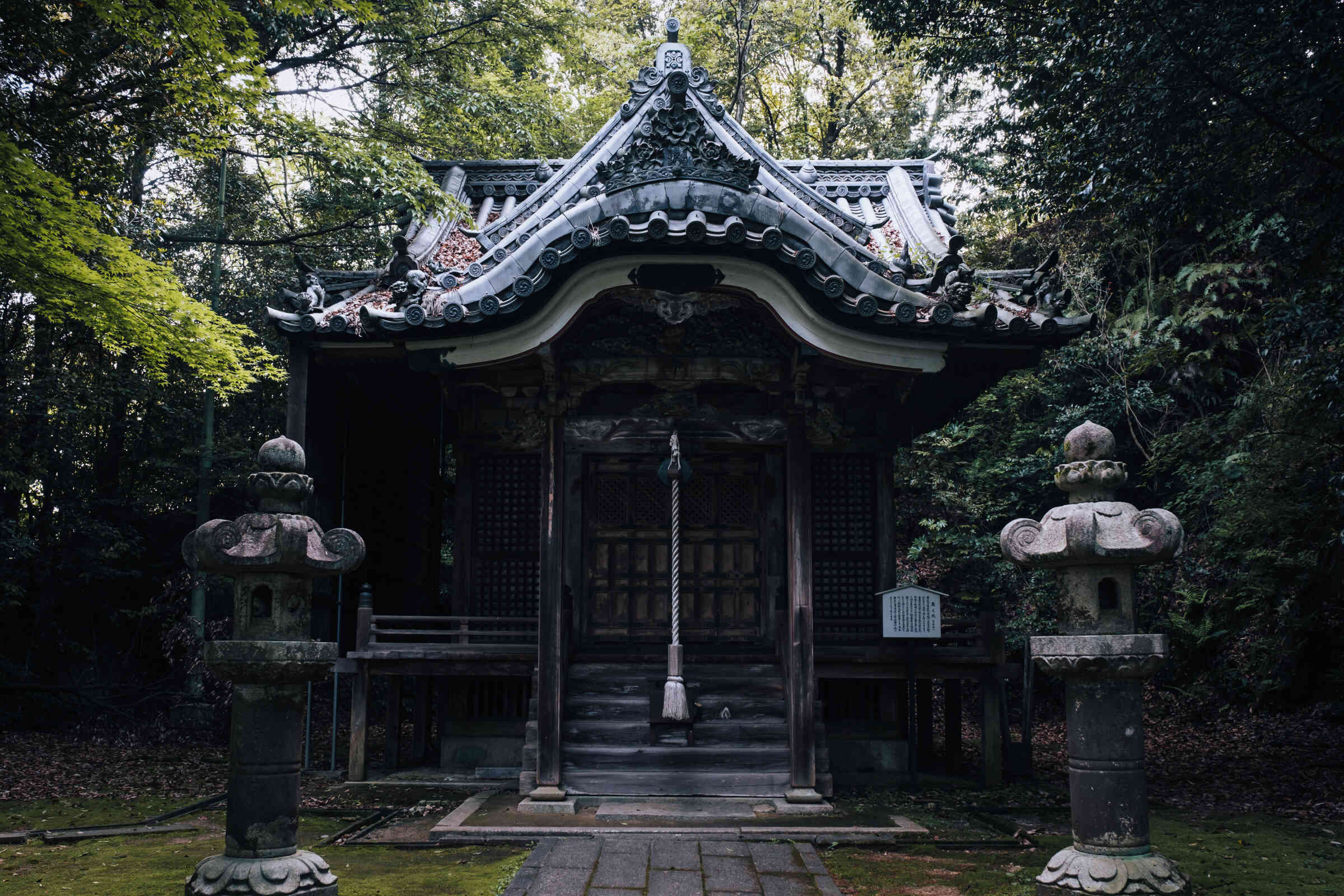 Proceed further back and climb the stone steps to reach Okunoin. Ugajin is enshrined, and it is said that it was erected as a token of gratitude for preventing the fire from spreading to the Hikone Castle tower.
さらに奥へと進み、石段を登った先には奥之院が。宇賀神が祀られ、彦根城天守閣延焼防止のお礼として建立されたと言われている。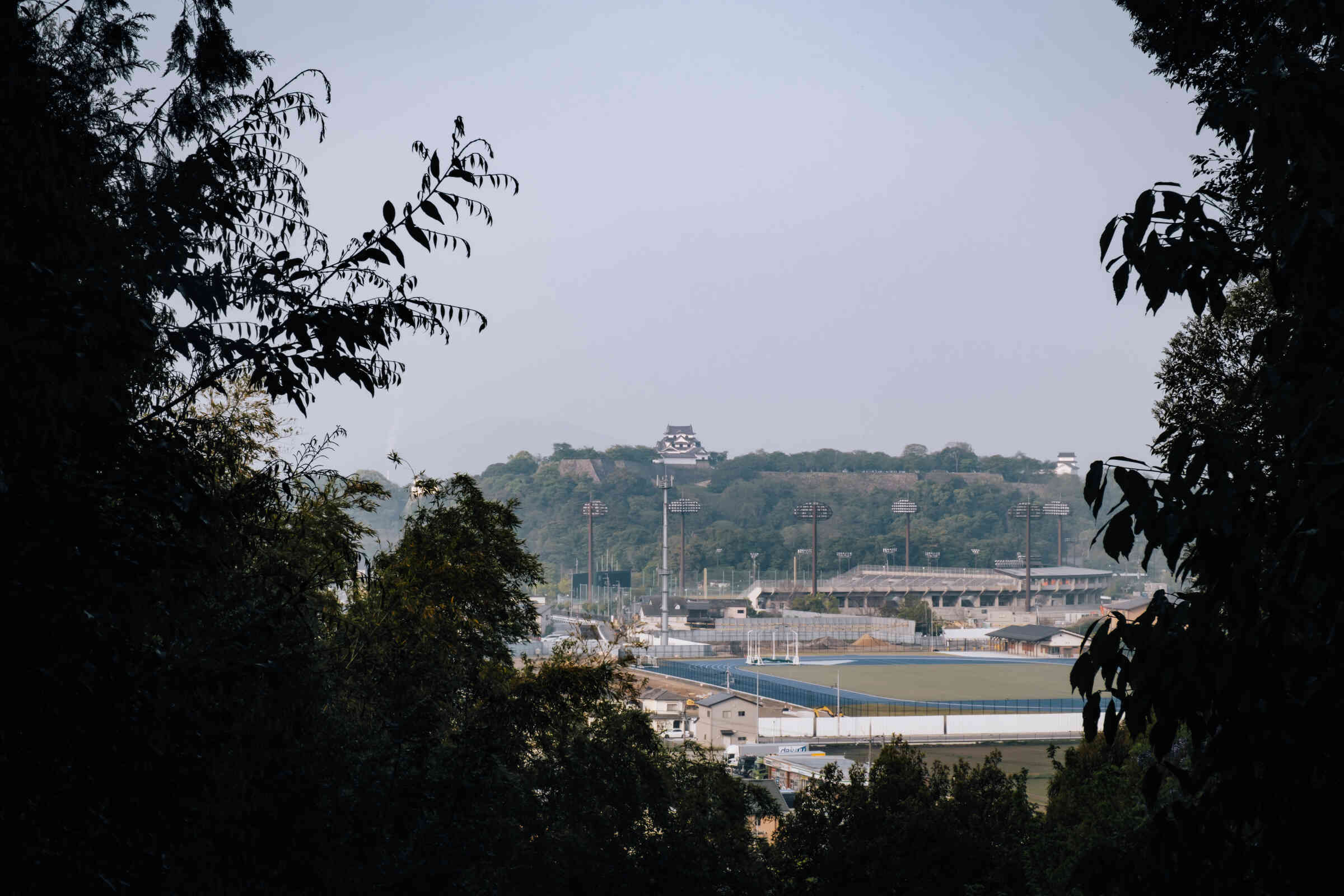 In the Edo period, Matsubara Lake approached the foot of the mountain, and it is said that the feudal lord used to visit by boat. It is said that if you visit here, you will have the merit of having visited 381 temples. At the time of its construction, everyone in the domain was called on to donate a single mon, and a list of 259,526 people who donated at that time still exists. It may have been Naoki's wish to have Benzaiten's blessings on all of the people of the fief.
江戸時代は山裾まで松原内湖が迫り、藩主は船で参詣していたと言う。ここに参拝すれば三百八十一箇所に詣でた功徳があるのだとか。建立の際には藩内全ての人に一文の寄進を呼びかけ、当時の寄進者25万9526人の名簿が現存する。領民全てと結縁することで、弁財天のご加護があるようにとの直興の願いだったのであろう。
Location: 1139 Furusawa-cho, Hikone City, Shiga Prefecture
Phone number: 0749-22-2617
所在地:滋賀県彦根市古沢町1139
電話番号:0749-22-2617