Okamura Honke | The rich blessings for the land and people of Omi. A sake brewery that has been passed down since the Ansei period.
岡村本家 | 近江豊かな恵みを、近江の土地と人々のために。安政より受け継がれた酒蔵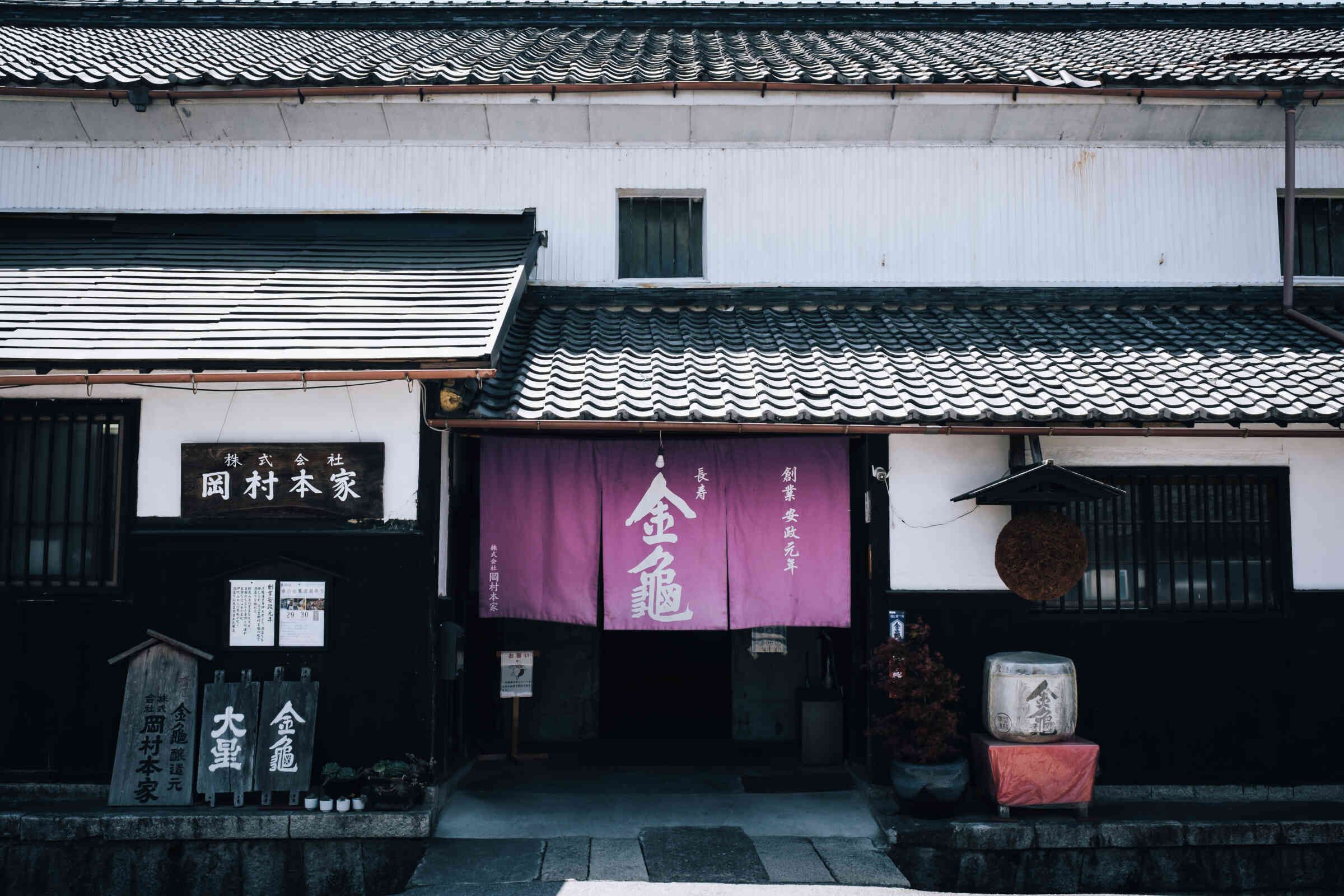 A land blessed with rich greenery and clear water. This dignified storehouse is located in Toyosato Town, which is surrounded by a lush, blue countryside.
豊かな緑と清らかな水に恵まれた土地。青く瑞々しい田園風景が広がる豊郷町に、その威風堂々たる構えの蔵はある。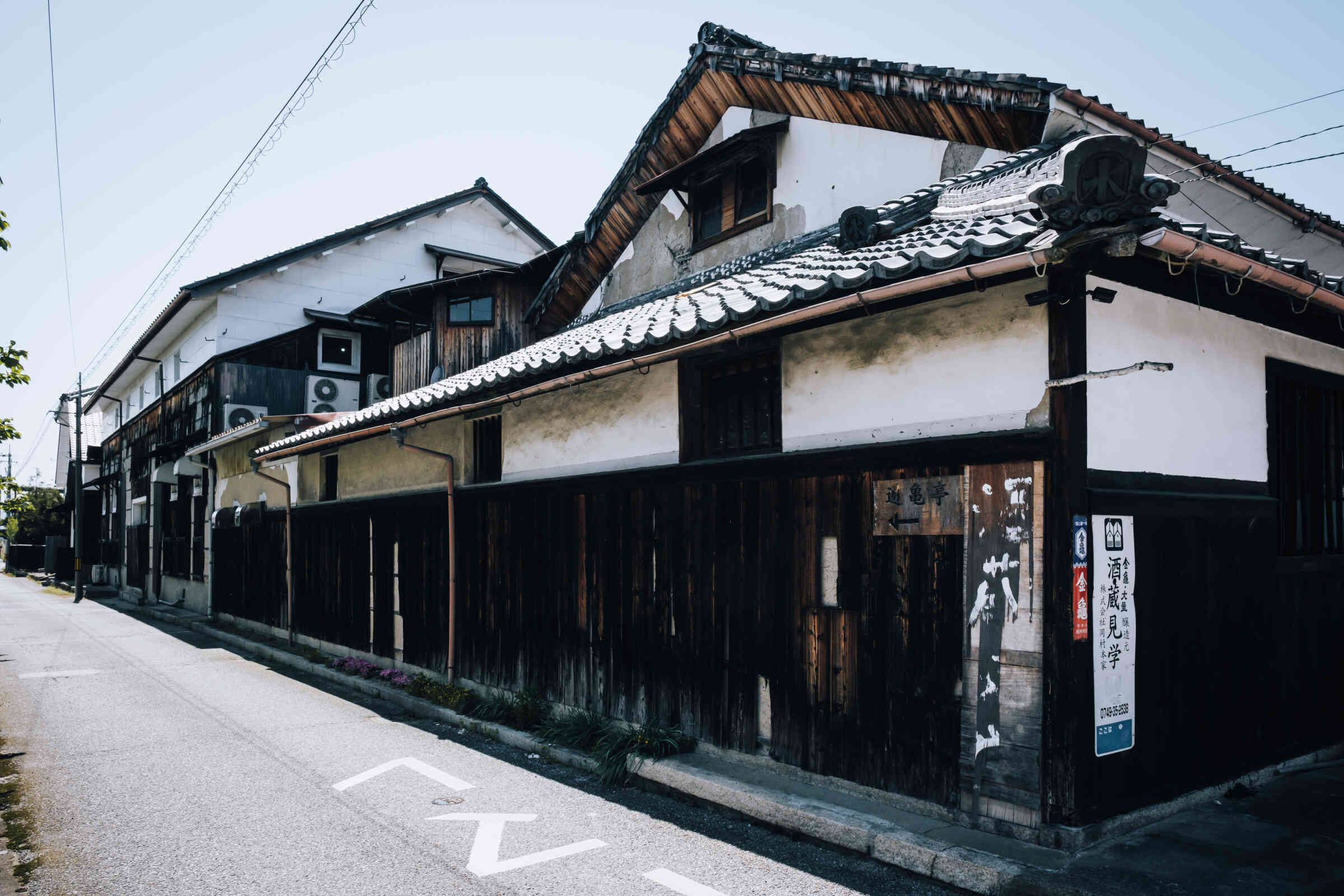 Founded in 1854 (first year of the Ansei era), the company was ordered to produce sake by the Ii family, the lord of the Hikone domain. Since then, the Okamura family has been making sake for the people of Omi and living together there. It is a storehouse that gives you a sense of the weight and dignity of the times.
1854年(安政元年)に彦根藩主井伊家より酒造りを命じられ創業。以来、近江の人々のために酒を造り、共存してきた岡村本家。時代の重みと品格を感じさせる蔵である。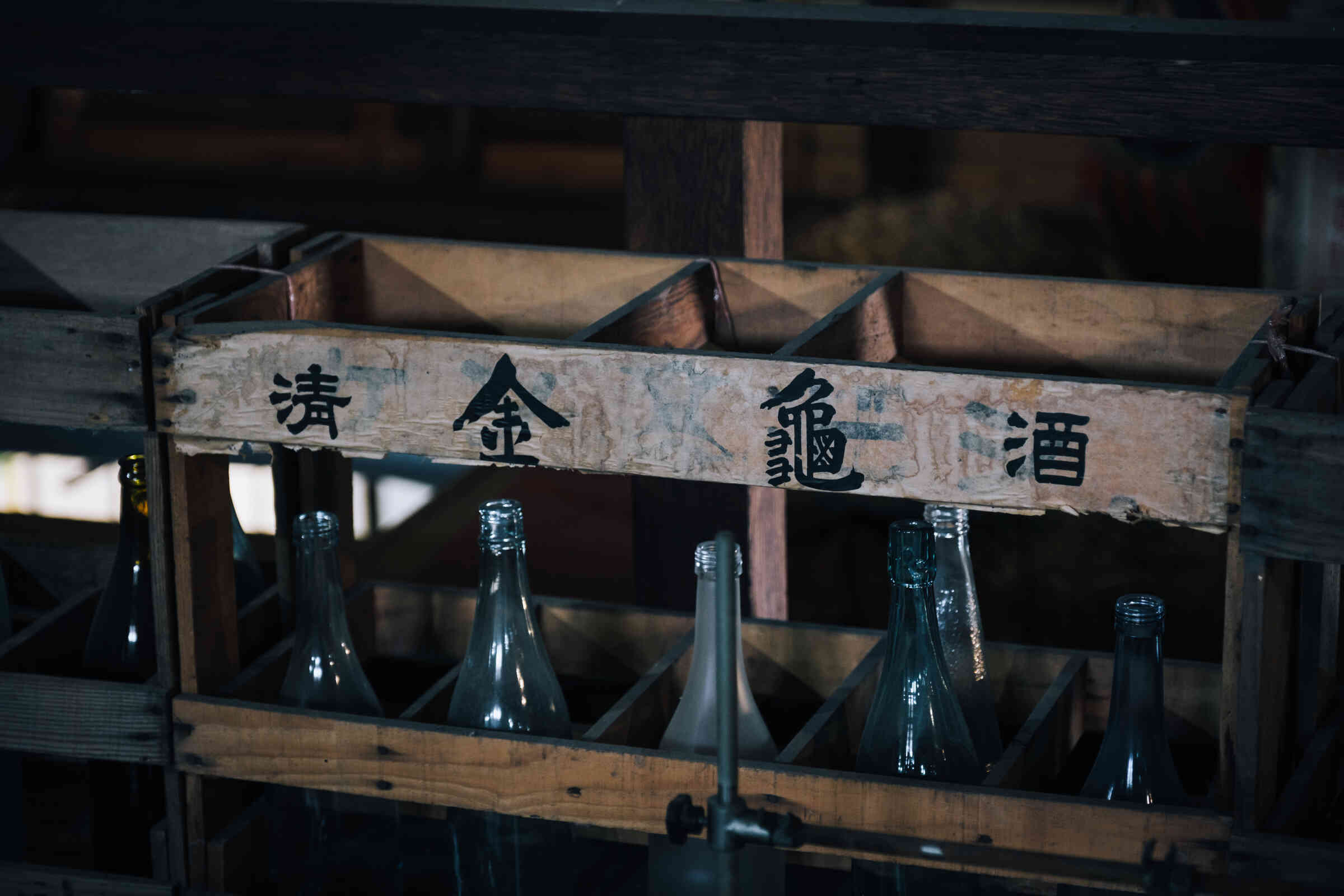 The sake named "Kinkame" is said to come from the Hikone Domain's famous Konki Castle. It is also known and loved as a symbol of longevity and a talisman of Matsuo Taisha Shrine, the god of alcohol.
酒銘「金亀(きんかめ)」は彦根藩の別命金亀(こんき)城に由来するとか。長寿のシンボル・お酒の神様松尾大社のお守りとしても知られ、親しまれてきた。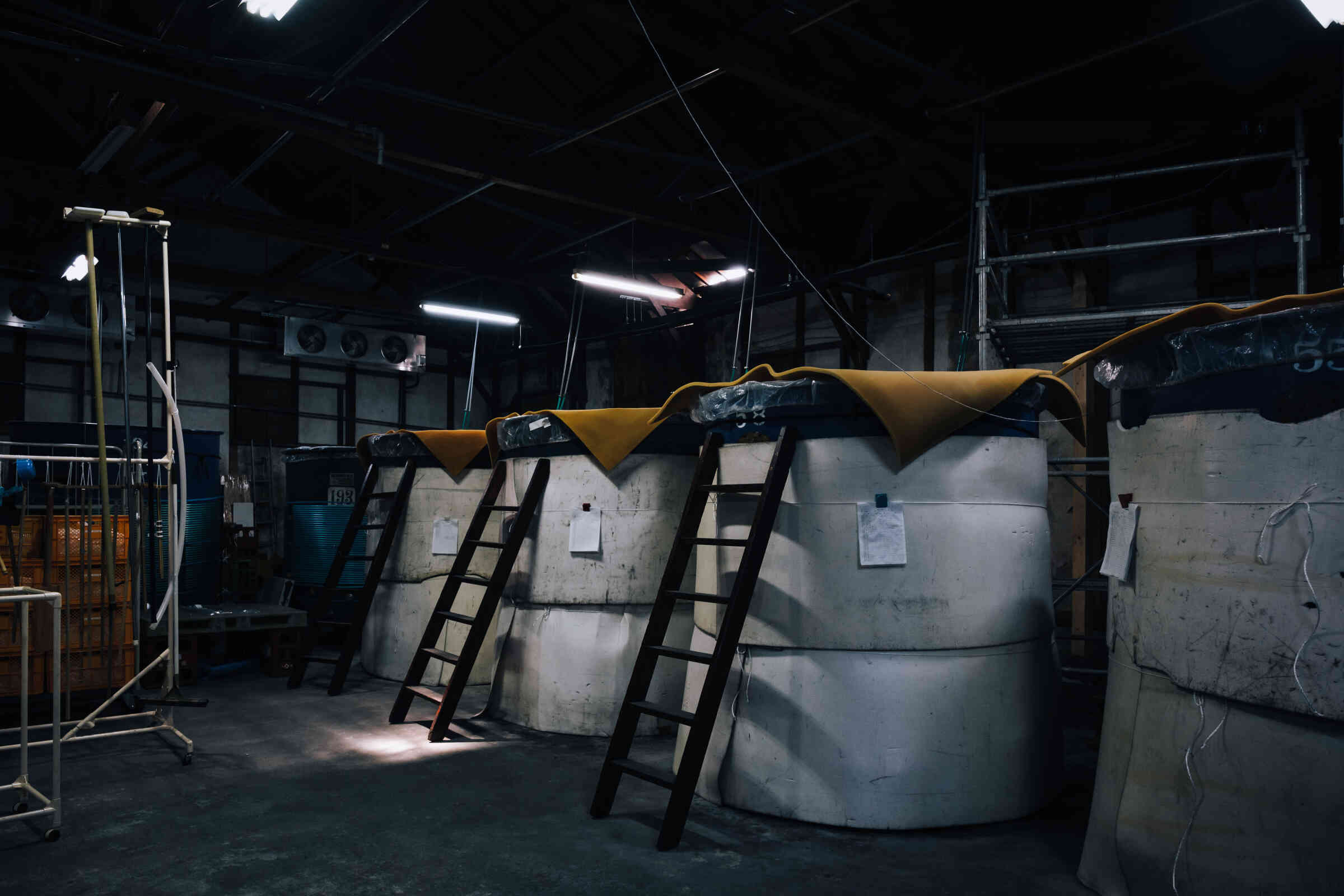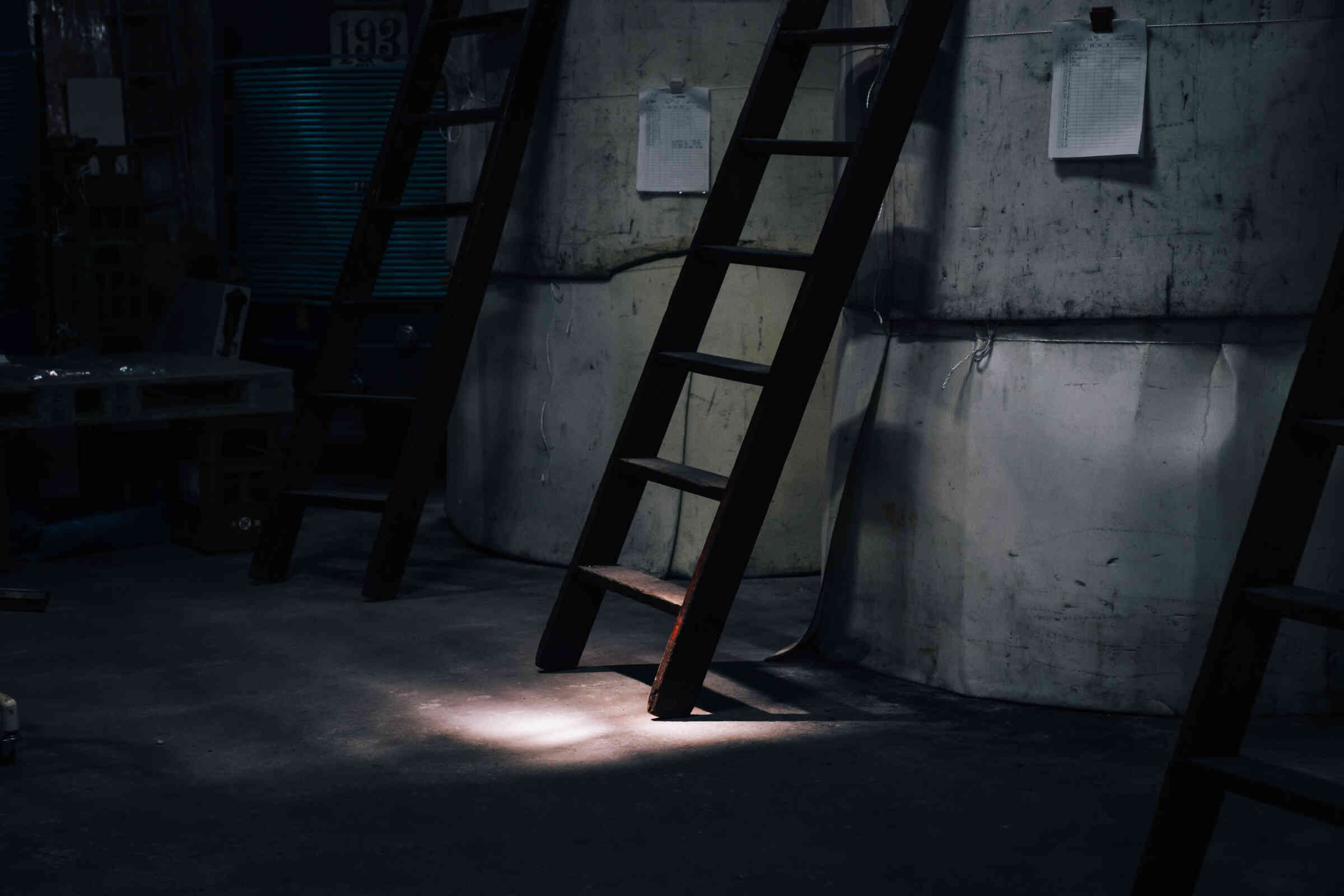 Stepping through the curtains and entering, the atmosphere feels as if it has remained unchanged since the Edo period.
Traditional sake brewing continues unchanged through the Edo, Meiji, Taisho, Showa, and Heisei eras. You can tour the brewery that is currently in production.
のれんをくぐって中へ入ると、そこは江戸時代から変わらぬ空気が漂っているかのようだ。
江戸、明治、大正、昭和、平成の時代を得て、今尚変わることなく醸造を続ける伝統的な酒造り。現役真っ最中の仕込み蔵を見学することができる。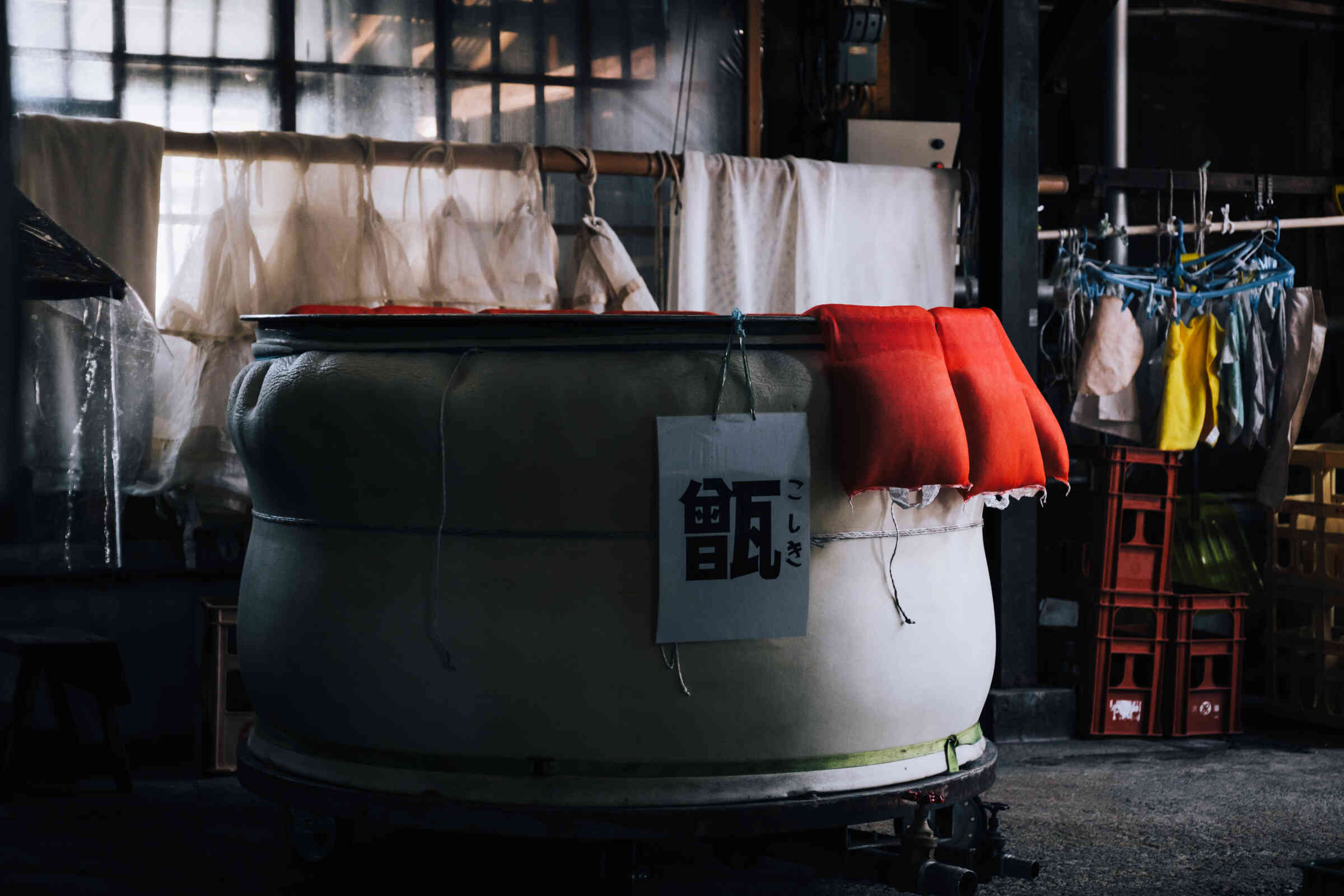 When you enter the brewery, you will be greeted by the unique sweet aroma of rice. The rice is steamed all at once in a large koshiki, which is 2 meters in diameter.
蔵に入ると、コメ特有の甘い香りが立ち込める。直径2メートルもある大きな「甑」(こしき)で、米を一気に蒸し上げる。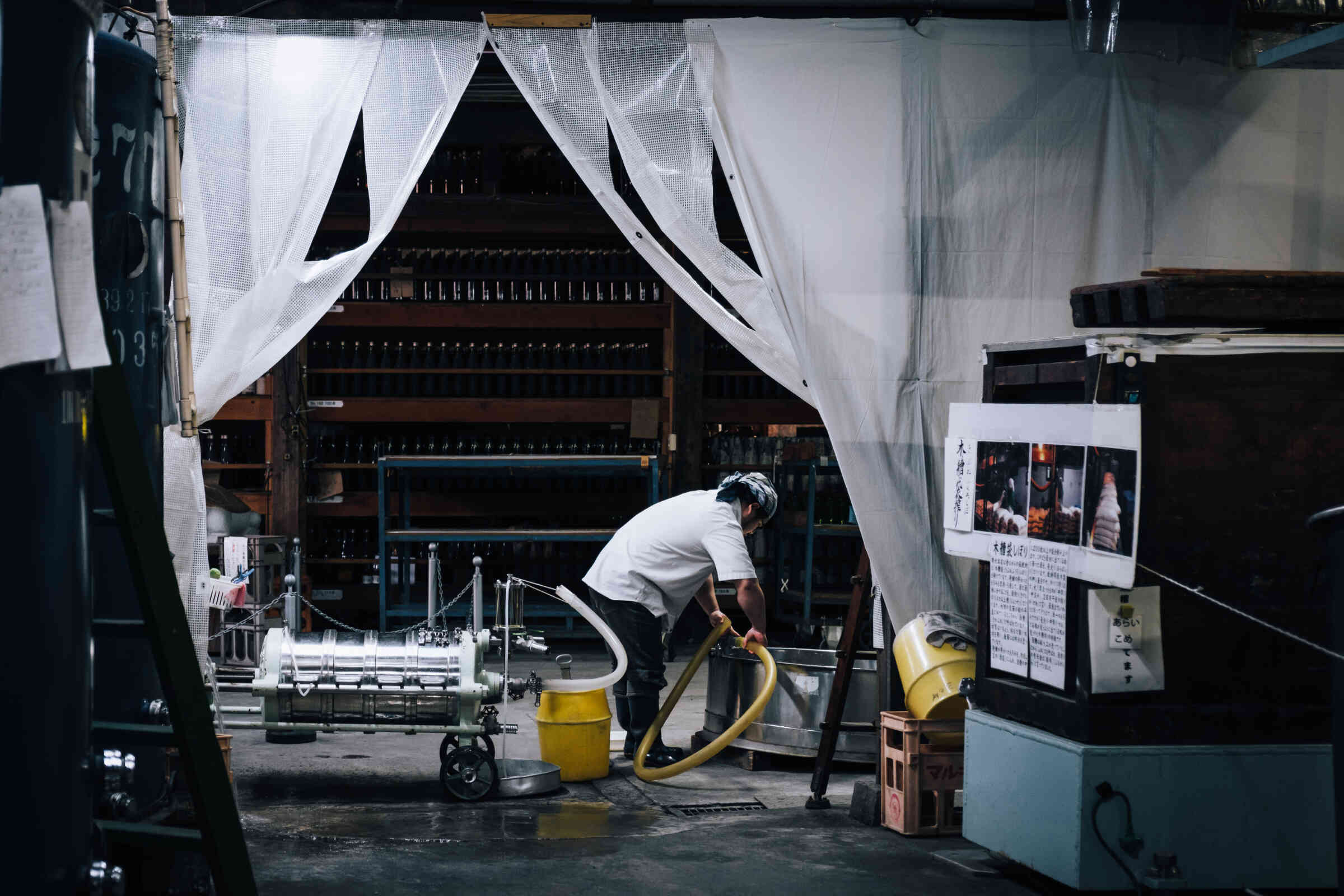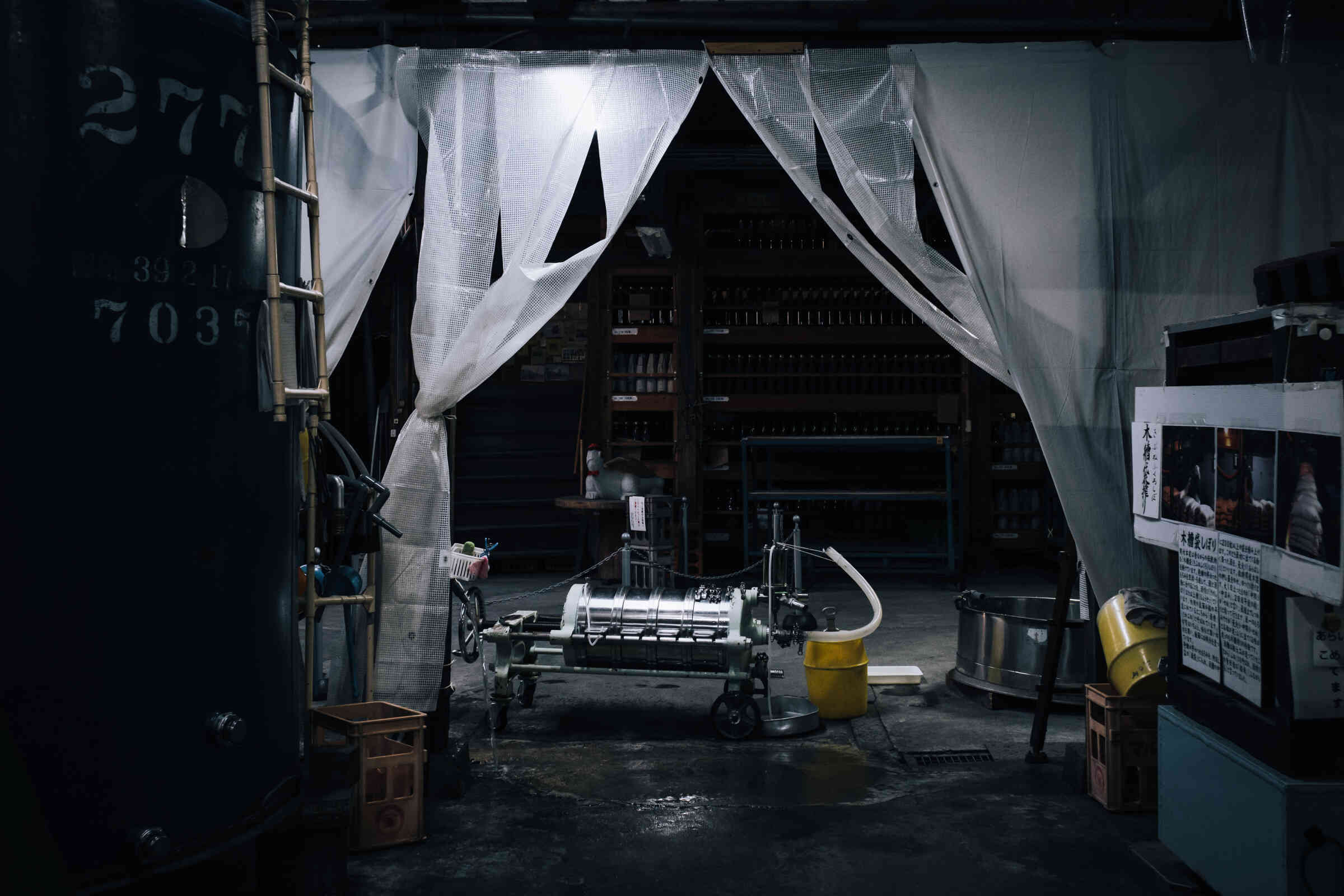 This brewery has been producing sake using the "Kibunefukuro Shibori" method that has been used since the Edo period. Although it is hard work to put each piece into a bag and squeeze it, it is gentle on the sake and is not squeezed too much, so the high quality is maintained and the sake lees contain a lot of alcohol.
この蔵では、江戸時代から続く「木艚袋搾り(きぶねふくろしぼり)」による酒造りが行われている。1枚ずつ袋に入れて搾るという重労働だが、お酒に優しく搾りすぎないため、高品質が保たれ、酒粕にも多くのお酒を含まれる。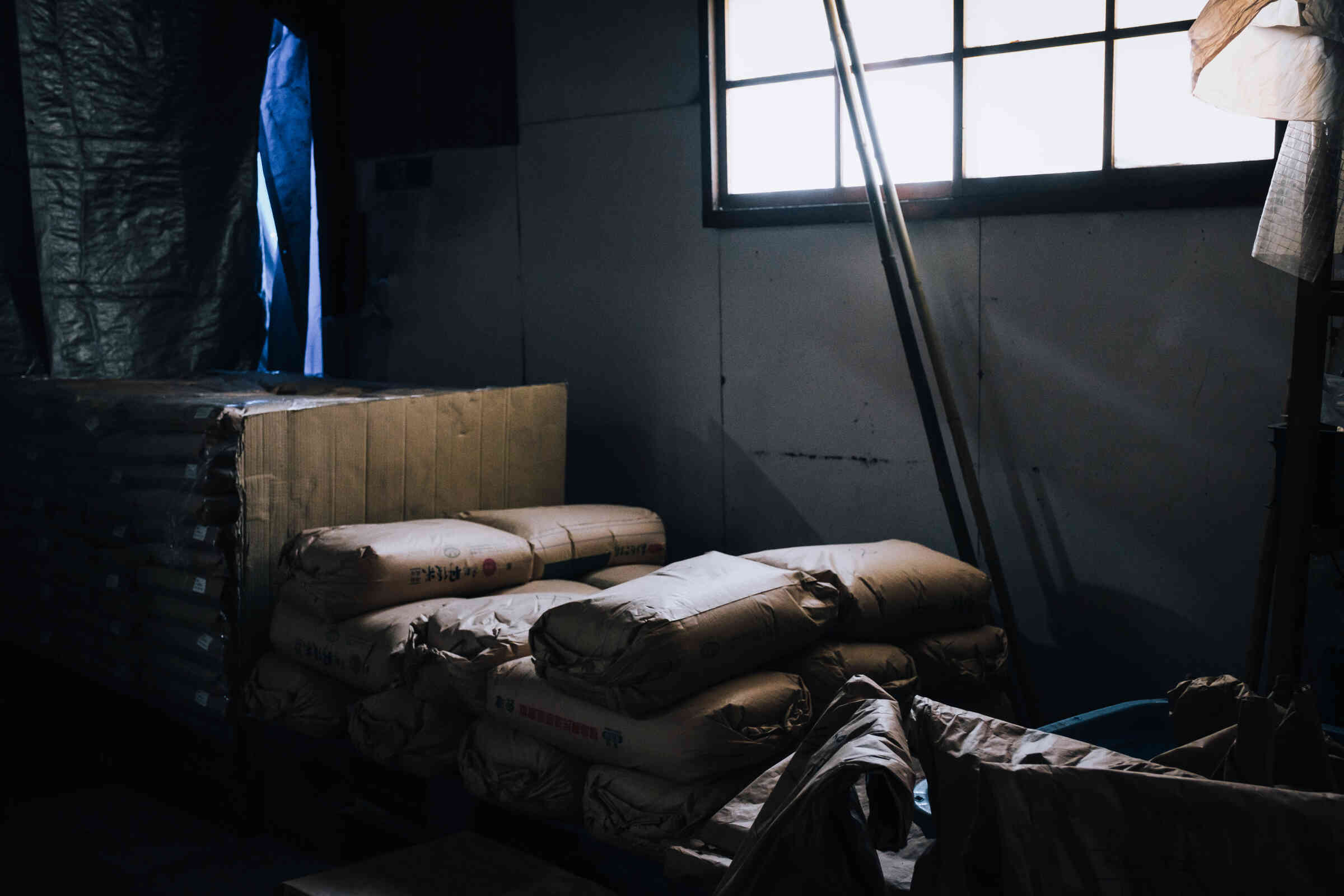 All rice used as raw materials is "Omi rice". They also obtain rice suitable for sake brewing, such as Ginfubuki and Tamasakae, from farmers within about 10km of the brewery.
原料となる米は全て『近江米』。それも蔵から約10㎞圏内で耕作している農家より、酒造好適米の吟吹雪(ぎんふぶき)、玉栄(たまさかえ)などを入手しているのだとか。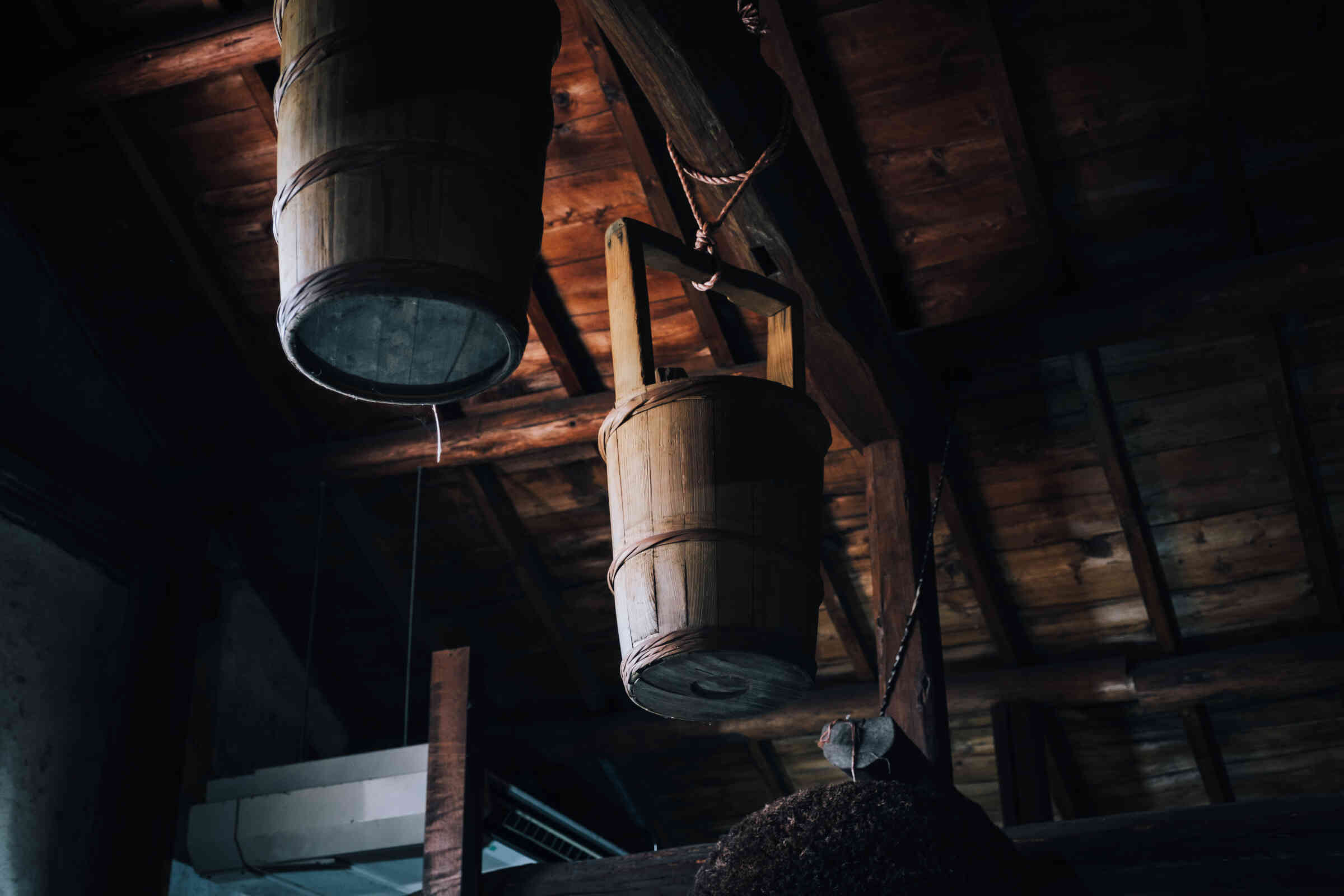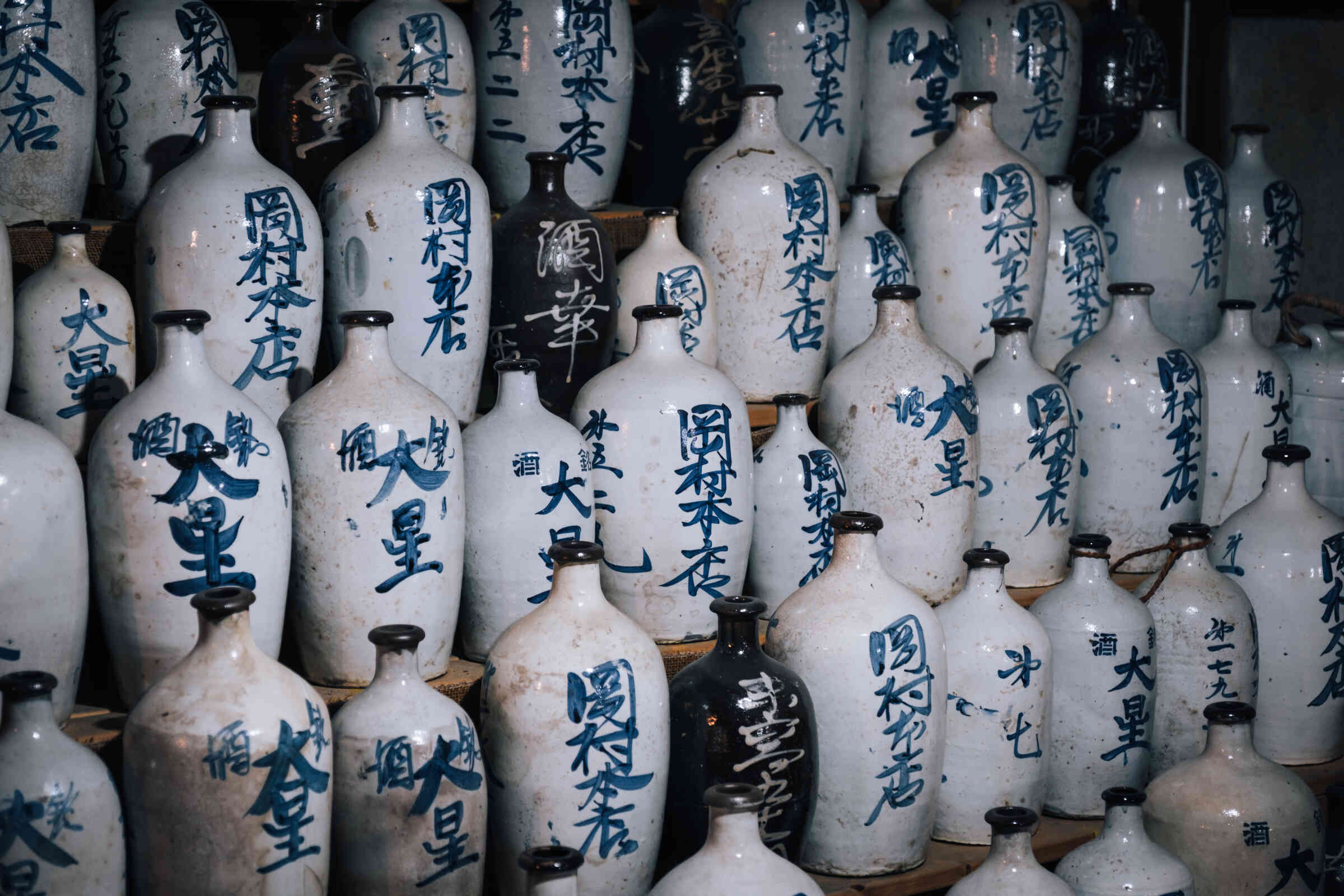 On the second floor of the brewery, sake brewing tools that were used until the early Showa period are on display, giving you a glimpse of Omi's sake brewing and its history.
蔵の2階には昭和初期まで使われたという酒造用具類が展示してあり、近江の酒造りとその歴史を垣間見ることができる。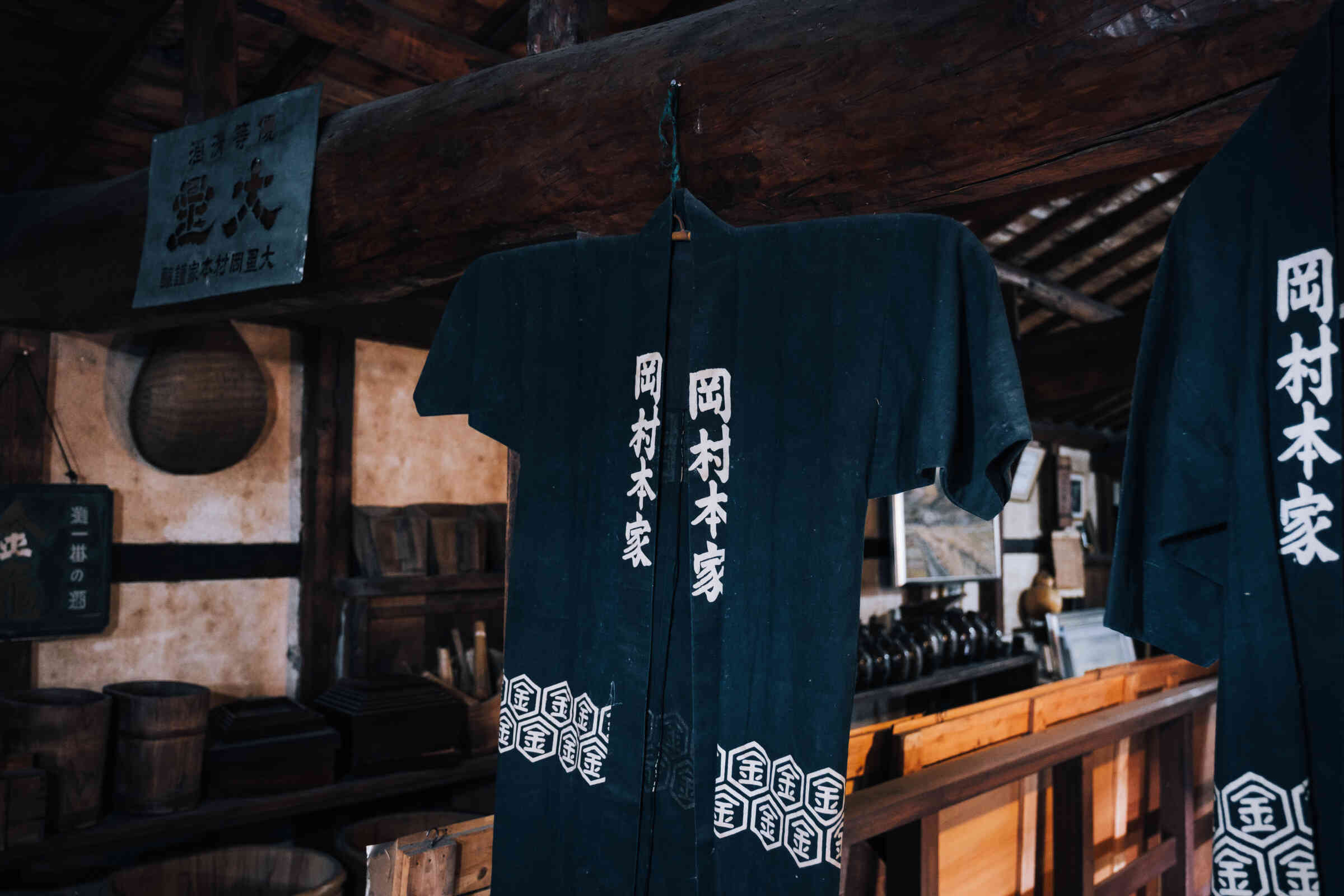 Omi is a production area of high-quality Omi rice, with abundant famous spring water from the Suzuka Mountains. The area has the best conditions for sake brewing, with cold winds blowing from Mt. Ibuki. The idea that the first generation searched for after two years has been passed down since its founding. It was filled with a warm atmosphere that felt like a strong desire to protect Omi's farmland and coexist with the people of Omi, which lies behind good sake brewing.
鈴鹿山系の豊富な名水が湧き出でる、良質な近江米の産地。そして伊吹山からの寒風が吹く酒造りに最高の条件を満たした土地。初代が2年の歳月を経て探し求め創業以来、脈々と受け継がれてきた思い。それは、良き酒造りの背景にある、近江の農地を守り、近江の人々と共存していくという強い志であると感じる、そんな温かな空気に満ちていた。
Location: 100 Yoshida, Toyosato-cho, Inukami-gun, Shiga Prefecture
Phone number: 0749-35-2538
所在地:滋賀県犬上郡豊郷町吉田100
電話番号:0749-35-2538