Tarobogu | "We never lose. Winning is fast, like the rising sun."
- A palace in the sky where the god of victory dwells.
太郎坊宮 | 「吾れ勝ち負ける事がない。
なお勝つ事の速い事、日の昇るが如し」– 勝利の神宿る天空の宮。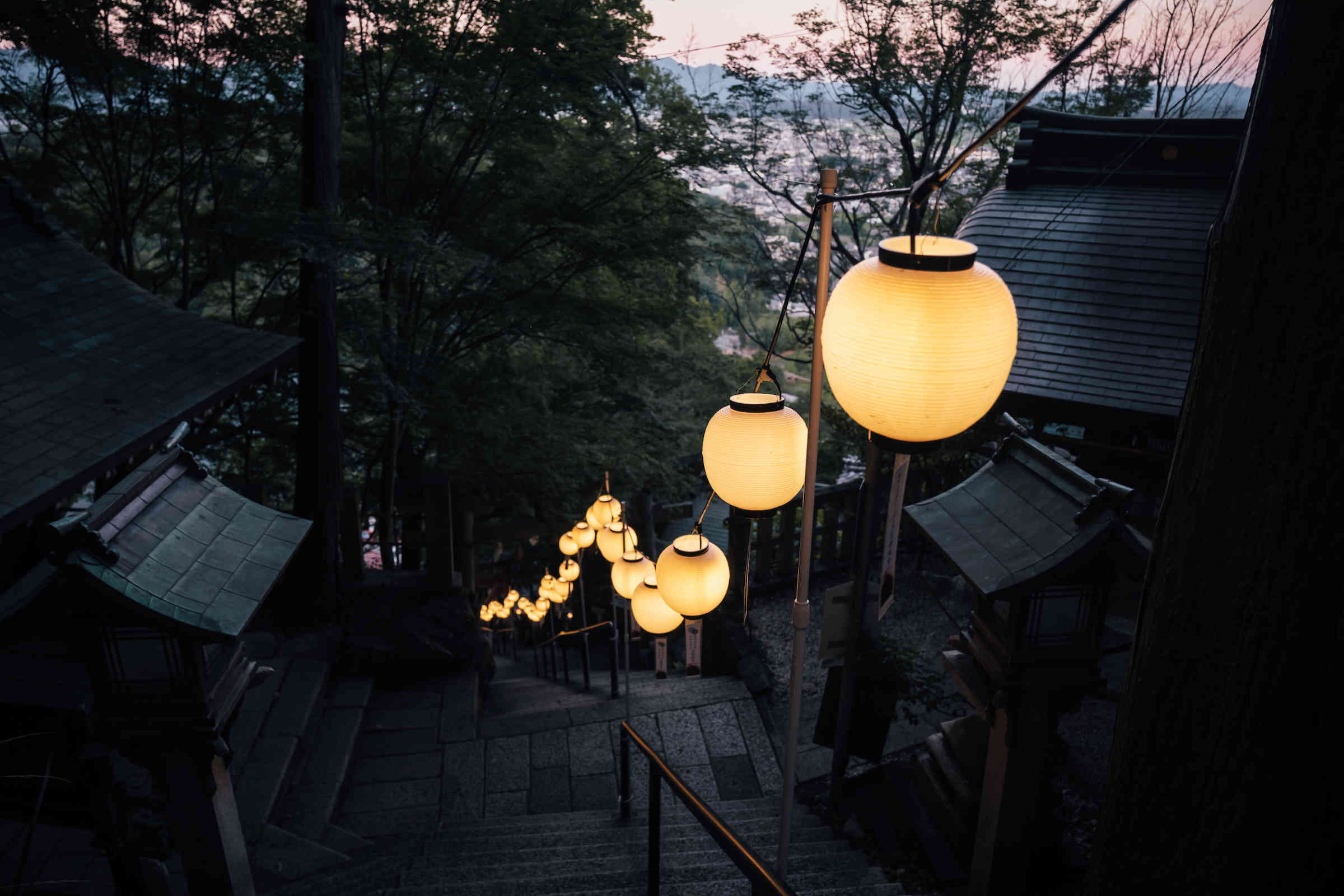 Enshrined deity - God of Tarobogu -
Masaka Akatsukachi Hayahiame no Oshihomimi no Okami
God's name has the meaning of symbolizing victory, saying, "Very victorious, I won. Victory as fast as the rising sun." It has been worshiped as a god who bestows victory and happiness.
御祭神 ― 太郎坊宮の神様 ―
正哉吾勝勝速日天忍穂耳大神―マサカアカツカチハヤヒアメノオシホミミノオオカミ―
神様の名には「まさに勝った、私は勝った。朝日が昇るように鮮やかに、速やかに勝利を得た」という、勝利を象徴する意味が込められている。その名の通り、勝利と幸福を授ける神様として信仰されてきた。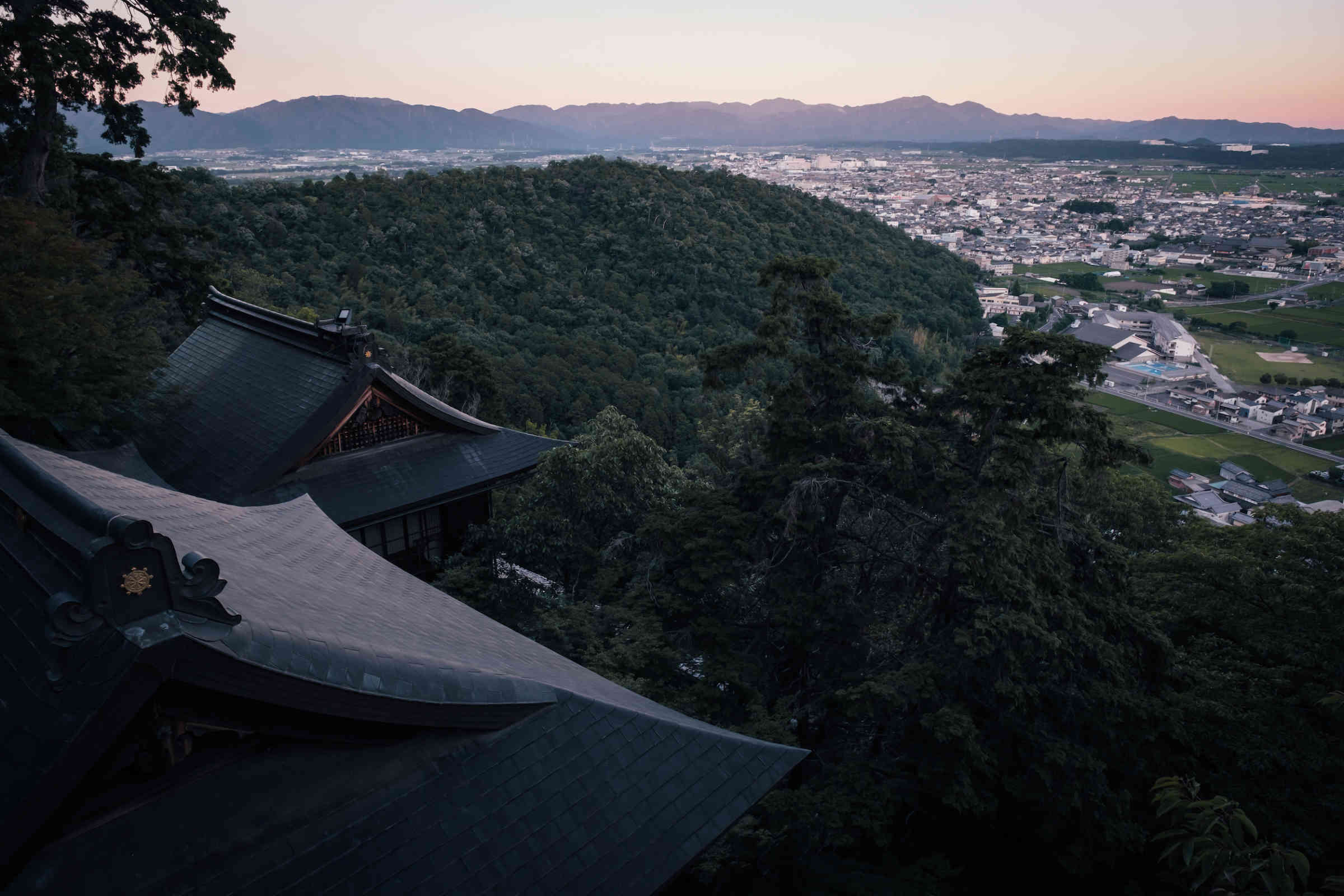 Mt. Tarobo (Mt. Akagami) is a mysterious triangular mountain that protrudes from the Koto Plain in Shiga Prefecture. The appearance of exposed rocks is a sacred and mysterious mountain. Tarobogu Shrine (Aga Shrine), which is located halfway up the mountain, is truly worthy of being called a palace in the sky.
Tarobogu Shrine is said to have been founded about 1,400 years ago. Shintaiyama worship is the most typical Shinto teaching that worships the universe and gives thanks for the blessings of nature.
滋賀県の湖東平野に突き出した、三角形の不思議な山、太郎坊山(赤神山)。岩石が露出したその姿は、見るからに神秘的な神宿る霊山。その中腹にある太郎坊宮(阿賀神社)は、まさに天空の宮と呼ぶにふさわしい。
約1400年前の創祀と伝わる太郎坊宮。天地万物を崇め、自然の恵みに感謝をする神道の教えの中で最も典型的なのがこの神体山信仰だ。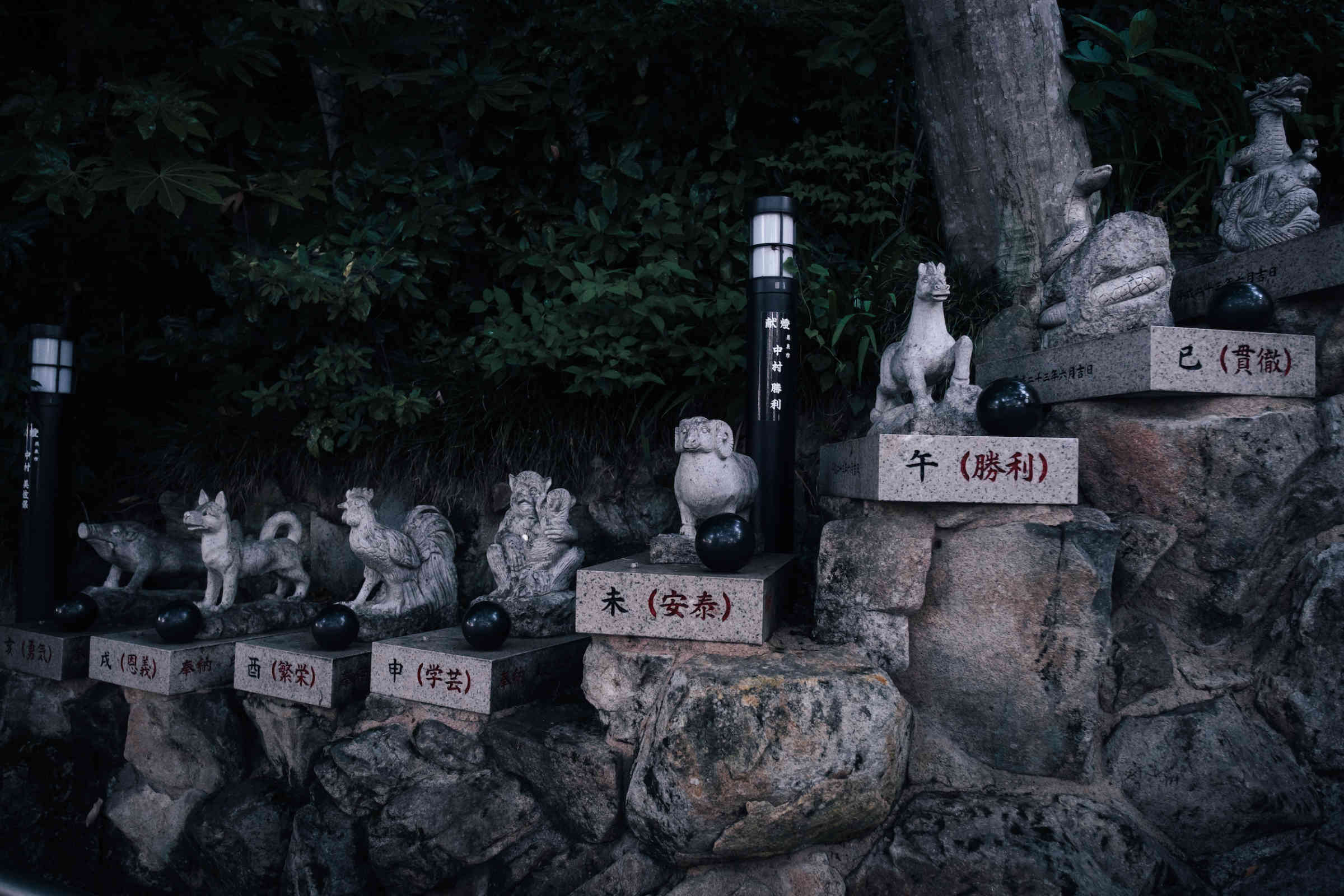 As the faith of the people deepened and spread, many ascetics began to train on this mountain, and their appearance is known as Tarobo Tengu. Tengu became the guardian deity of the enshrined deity.
人々の信仰が深く広くなるにつれ、この山で修行をする修験者が多く現れ、その姿は太郎坊天狗として今に伝えられている。天狗は御祭神の守護神となっていたのだ。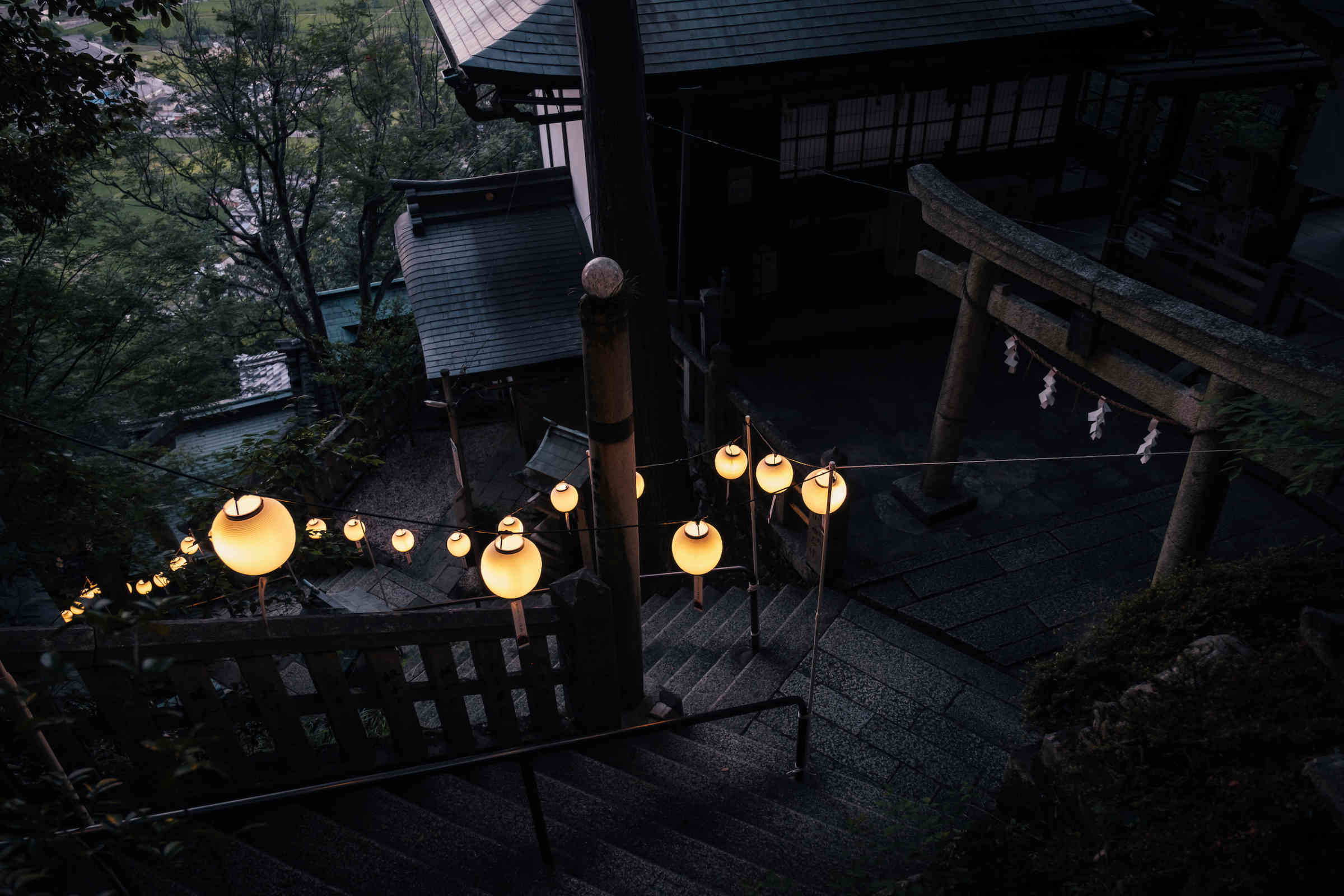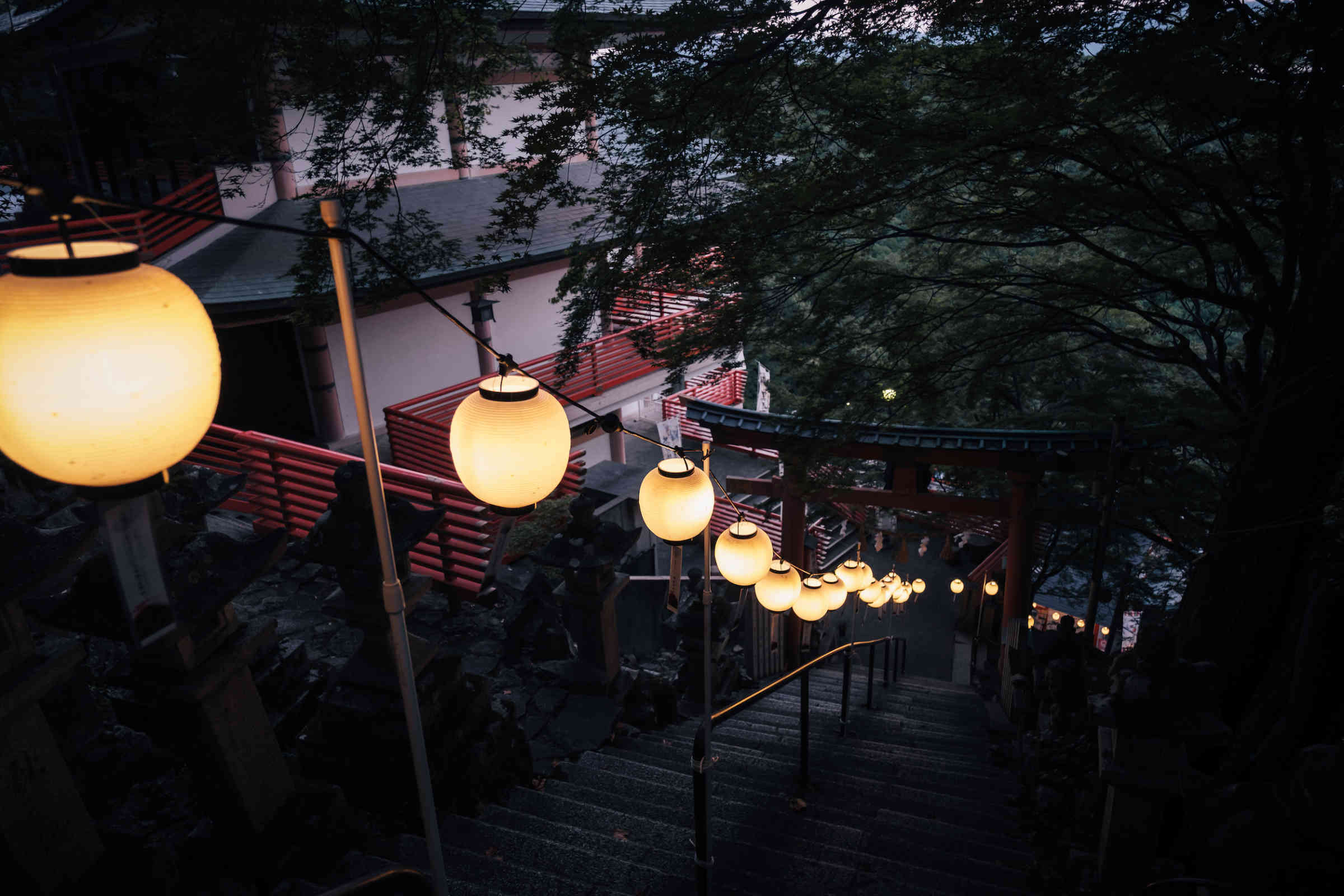 Tarobogu's divine virtues were widely known, and Prince Shotoku prayed for the security of the nation and the happiness of all people. It is said that Dengyo Daishi Saicho also visited this shrine and was impressed by his divine virtues, building more than 50 shrines and temples. It is said that Minamoto no Yoshitsune also visited this shrine to pray for the prosperity of the Genji clan, and the 'Yoshitsune Koshikake Rock' that he sat on at that time has been handed down to the present day.
太郎坊宮のご神徳は広く知られ、聖徳太子は国家の安泰と万人の幸福を祈願した。伝教大師最澄も当神社に参り、ご神徳に感銘を受けて50余りの社殿・社坊を建立したと言われている。また、源義経も当神社に参詣して源氏興隆を祈念したと言われ、その折に座られた「義経公腰掛岩」が現在に伝わる。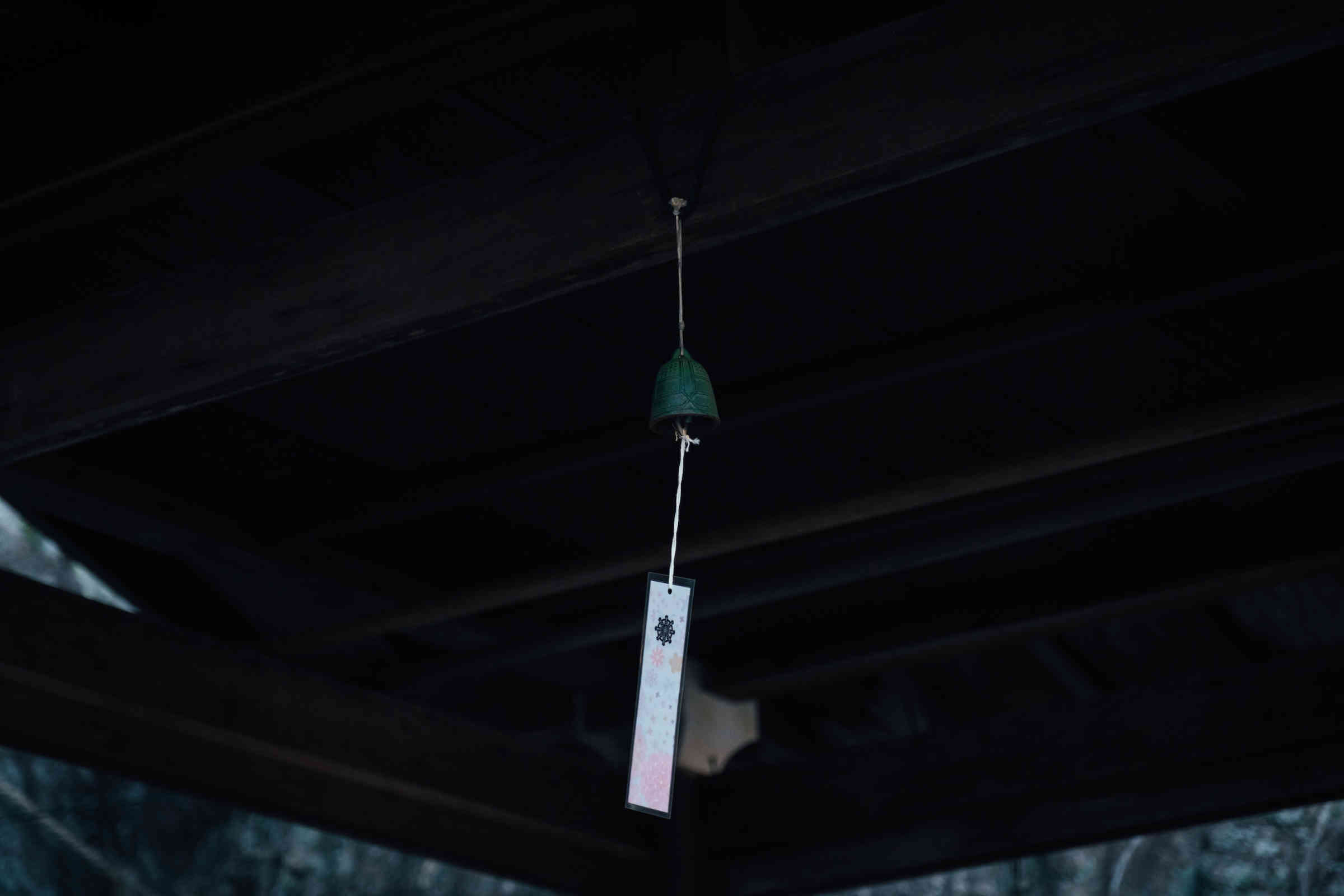 As people's faith deepened in this way, many ascetics began to train at this sacred mountain, and a unique form of faith was established in which Tendai Mountain Buddhism and Shugendo, based on Shinto, intersected.
このように人々の信仰が深くなるにつれ、この霊山で修業をする修験者が多く現れ、神道を基に天台山岳仏教と修験道が相交わる独特の信仰形態が確立されるに至った。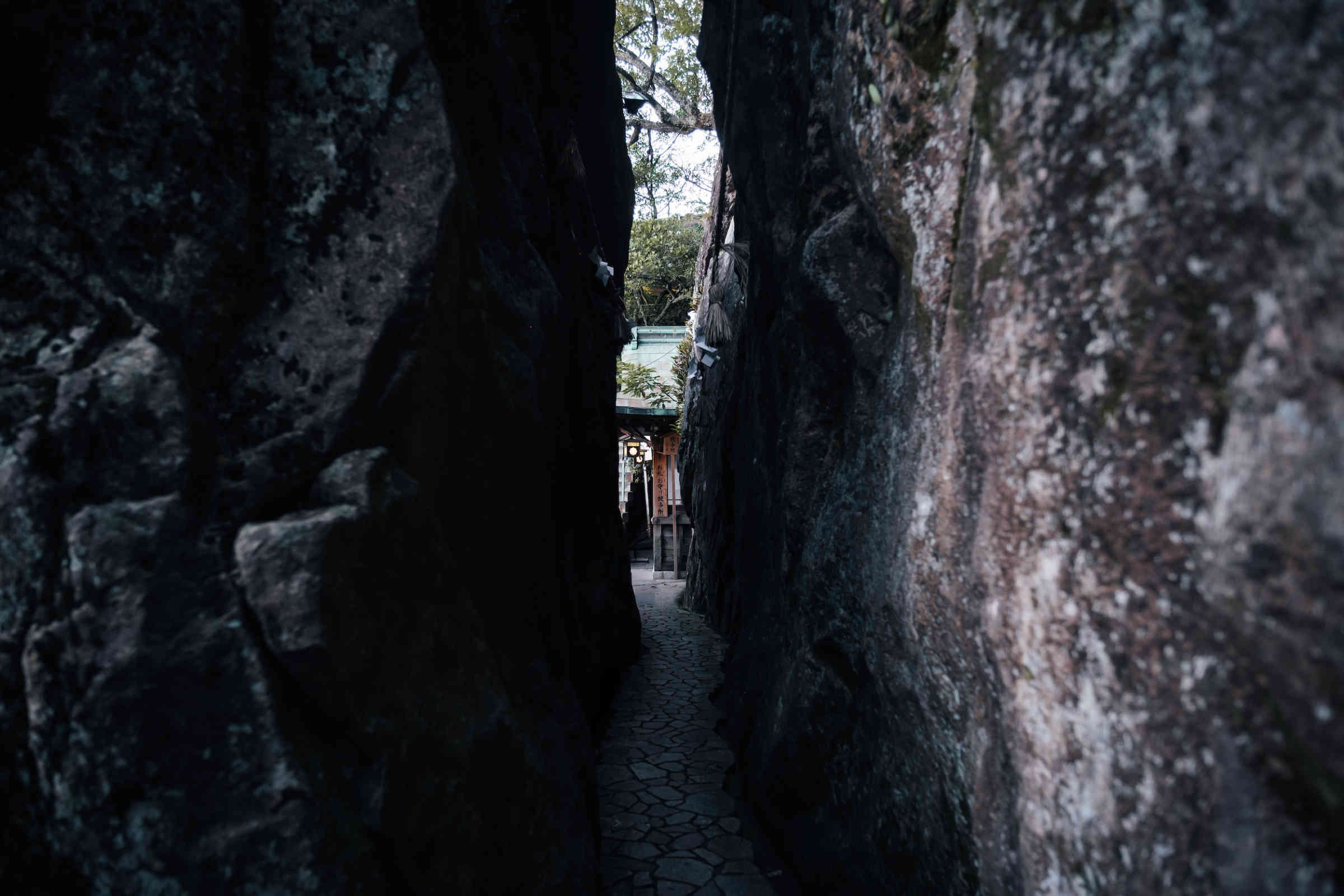 In front of the main shrine, there are two huge rocks that are dozens of meters high, called Meoto Iwa (Couple Rocks). According to legend, it was pushed open in two by the divine power of the Great God, with a width of 80 cm and a length of 12 m.
It is also said that "those who pass through this rock to pray will immediately see into their sickness and all their wishes will be fulfilled, but those with ill will be caught between the rocks." Children are taught that if they play a trick or lie, they will be caught between the rocks, and it has become a place of admonishment.
本殿前には、夫婦岩と称される高さ数十メートルの二つの巨石がそびえる。言い伝えでは大神の神力により、幅約80cm・長さ12mに渡り、真二つに押し開かれたとされている。
「この岩を通って参拝する者は、即座に病苦を覗き諸願が成就するが、悪心あるものは岩に挟まれる」とも言われ、子供には「悪戯をしたり嘘をついたら岩に挟まれる」と教え、戒めの場となってきた。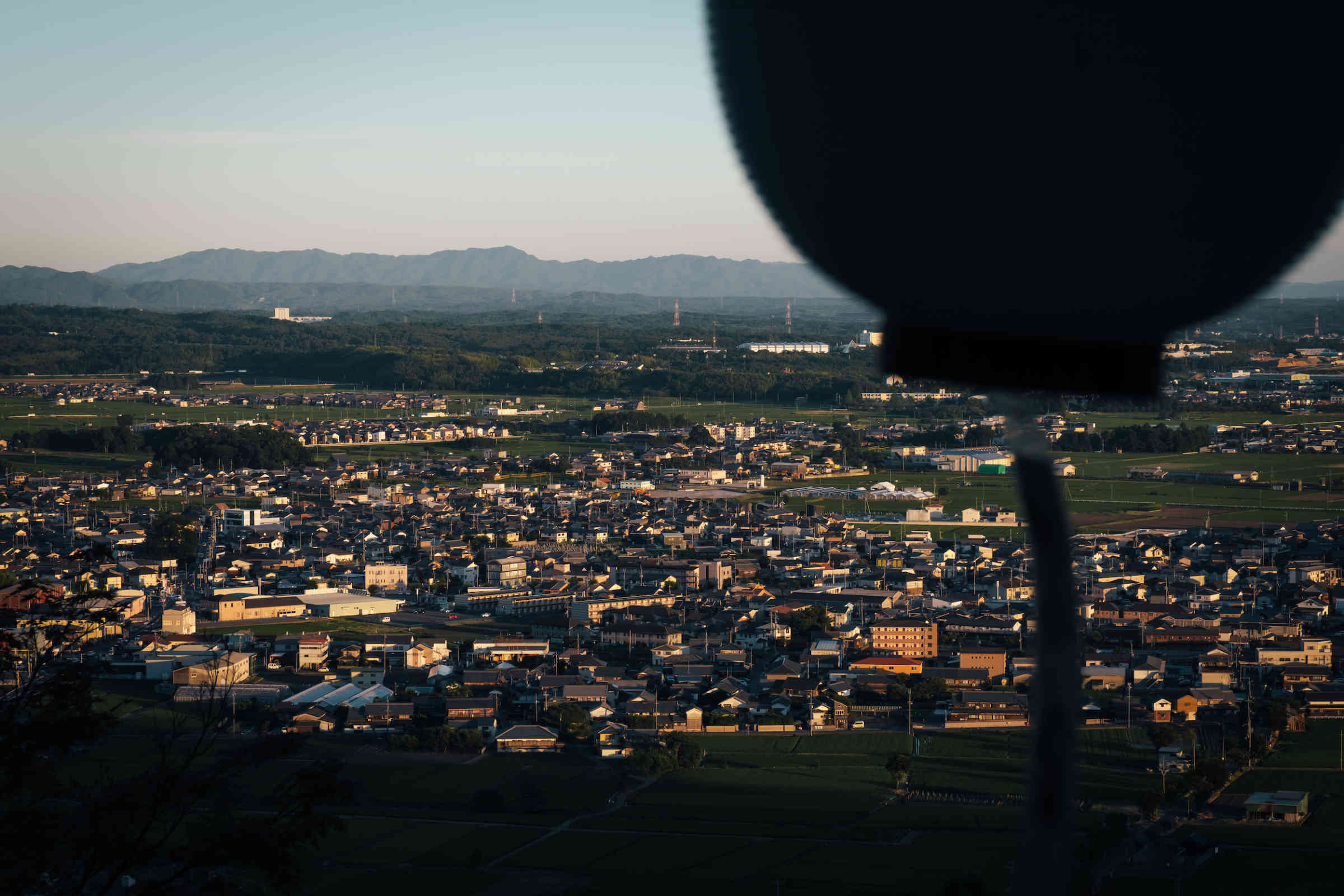 Tarobogu lies as a shrine watching over the town of Omi from the mountains same now as it back then. There are many shrines scattered on both sides of the approach. It would be a good idea to go and pray for victory and happiness while enjoying a walk in the air on Kamiyama.
今も昔も、山間より近江の町を静かに見守る太郎坊宮。参道を上る両脇には、数多くの社が散在する。神山の空中散歩を楽しみながら心を清め、勝利と幸福を祈りに行くのもよいだろう。
"We never lose. Winning is fast, like the rising sun."
- A palace in the sky where the god of victory dwells.
Location: 2247 Kowakicho, Higashiomi City, Shiga Prefecture
Phone: 0748231341
「吾れ勝ち負ける事がない。
なお勝つ事の速い事、日の昇るが如し」– 勝利の神宿る天空の宮。
所在地: 滋賀県東近江市小脇町2247
電話: 0748-23-1341